Internet Governance
Surveillance. Tech&Democracy. Free Speech. Intermediary Liablility. EU Digital Agenda. WikiWashing. Hi there!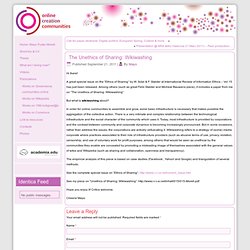 A great special issue on the "Ethics of Sharing" by W. Sützl & F. Stalder at International Review of Information Ethics – Vol 15 has just been released.
Campaign via social media networks blocks Dutch bankers' bonuses | Business | The Observer. Britain has a rival when it comes to bashing bankers.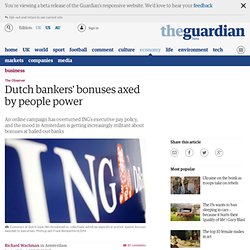 After a furious row over pay packages at Amsterdam-based ING in which thousands of customers threatened to make mass withdrawals, the Netherlands is now vying for the title of Europe's most bonus-hating country. A growing Dutch political storm could end with a blanket ban on bonuses to financiers who work for institutions bailed out by the taxpayer.
IP. Tools. Privacy. Neutrality.
---