Sewing
Womens Clothing - StumbleUpon. Married to a bmw Free Sewing Patterns: Women's Clothing 06.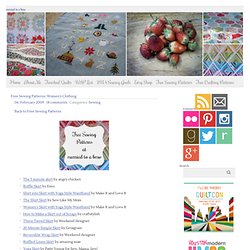 February 2009 · 18 comments · Categories: Sewing Back to Free Sewing Patterns The 5 minute skirt by angry chickenRuffle Skirt by EmuShirt into Skirt with Yoga Style Waistband by Make It and Love ItThe Shirt Skirt by Sew Like My MomWomen's Skirt with Yoga Style Waistband by Make It and Love ItHow to Make a Skirt out of Scraps by craftstylishThree Tiered Skirt by Weekend designer20 Minute Simple Skirt by GrosgrainReversible Wrap Skirt by Weekend designerRuffled Linen Skirt by amazing maeYoga Skirt by Patty Young for Sew, Mama, Sew! Make a Custom Pair of Tap Pants. By Haley Pierson-Cox For me, summer in NYC means two things: 1) I will eventually wear a light skirt into the subway when my hands are full, and 2) on that day, when I step onto the stairs of the station, a gust of wind will come barreling up from below, lifting my skirt and showing my backside to anyone who cares to look.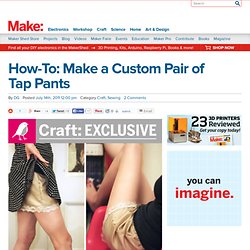 This year, on the very first nice day, my skirt flew up not once, but twice. In the same commute. Grumbling and scrambling to pull it down, it hit me: I definitely needed a pair of tap pants. Sewing Projects: Sewing Projects for Kids - Martha Stewart.
---