Art/Design
Blik Wall Decals Official Site
Zeikos ZE-CA48B Deluxe Soft Medium Camera and Video Bag: Camera & Photo
There are many ways to find the images you're looking for in the ARTstor Digital Library; a simple keyword search will often lead you to what you're looking for, and an advanced search will help narrow the results. Wildcards can help when you don't remember a precise name or title, or, conversely, when you are looking for something very specific. There are only four to remember: The underscore (_) can represent any one character.
NHS's First IB Visual Art Exhibit 4/7/11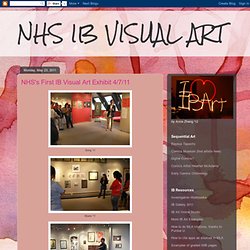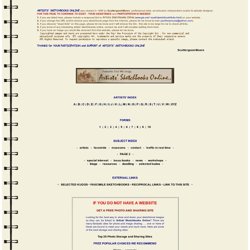 1000 Hours of Drawing (Taylor O) sketchbooks | sketch 1000 JOURNALS PROJECT (Someguy) 8861 miles collabration of 2 danish artists, one (Peter) living in Denmark and the other living in Australia (Lene) 8861 miles apart... Chicago, sketchbook, copyright © 2011 Susan Abbott
LINKS to ARTISTS' SKETCHBOOKS ONLINE
40 Free Tutorials on Advanced Drawing Techniques | Vectortuts+ - StumbleUpon
The traditional form of drawing and sketching is a highly sought after skill. Develop your personal drawing abilities by following this collection of 40 great tutorials on advanced drawing techniques, including general theory, useful tips, comic inspired art and some methods for transforming your creations into digital format. 1. How to Draw a CarUse a range of pencil drawing techniques to create an American classic, the Corvette. This tutorial from DueysDrawings.com covers the process from roughing out the initial outline through to shading with a range of tones.Visit Tutorial 2. How to Draw Hair With Naughty-KittyFollow this tutorial by Naughty Kitty to gain some useful tips on recreating Manga inspired hair in a range of styles.Visit Tutorial 3.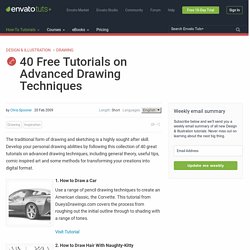 Drawing Galleria001 - scrapbookMANIFESTO
Alic& - StumbleUpon
Tara McPherson | ART Drawings Drawings
ComicsAlliance readers should by now be familiar with the work of Andrew Kolb. We've spotlighted the illustrator's work a couple of times before, first for his groovy representations of The Walking Dead and other beloved artifacts of pop culture, and most recently for his work with some of comics, film and television's most famous double-acts like The Muppets' Bunson and Beaker and Kevin Smith's Jay and Silent Bob, but in the style of carved wooden blocks. Kolb's latest work is more ambitious, telling the story of David Bowie's classic "Space Oddity" in the style of an illustrated children's book. The tale of doomed Major Tom plays out in Kolb's bright and retro animation style, giving a face to the legendary Bowie character and making the conclusion that much sadder.Released in 1969 and considered a classic today, David Bowie's "Space Oddity" is obviously a reference to Stanley Kubrick's "2001: A Space Odyssey."
David Bowies "Space Oddity" Recreated As Childrens Book [Read + Listen] - ComicsAlliance | Comic book culture, news, humor, commentary, and reviews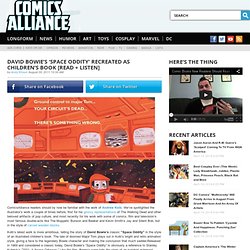 'The Walking Dead' Goes Vintage in the Illustrations of Andrew Kolb
"The Walking Dead" on AMC grabbed a Sunday-night time slot that used to belong to "Mad Men." Illustrator Andrew Kolb flexed some creative muscles, however, and imagined what a poster for the comics-inspired show might look like if it were graced with his unique blend of classic style and perky people who resemble Graham Annable characters.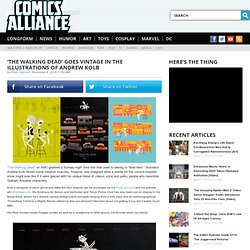 Creative Recycling Of light Bulb into Valuable Things | Weird Pictures, Wonderful Things - StumbleUpon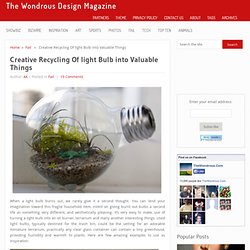 When a light bulb burns out, we rarely give it a second thought. You can lend your imagination toward this fragile household item, intent on giving burnt out bulbs a second life as something very different, and aesthetically pleasing. It's very easy to make, use of turning a light bulb into an oil burner, terrarium and many another interesting things. Used light bulbs, typically destined for the trash bin, could be the setting for an adorable miniature terrarium, practically any clear glass container can contain a tiny greenhouse, providing humidity and warmth to plants. Here are few amazing examples to use as inspiration.