Desserts
Get flash to fully experience Pearltrees
I saved my buddy Powder until the very end. I watched his cute, pale, little head poking out above the rest of the gummi magma as he slowly sinks, in sort of a Terminator 2-esque death scene. I felt no sorrow as I watched him go, as I felt he was going to a better place, a place where all gummis are the same color and consistency. Soon enough (about 10 minutes on low) the gummis were all melted, and the magma turned clear. It's all shiny and uniform in color, but still vaguely menacing, and I was expecting it to leap out of the pan and attach itself to my face. My spatula was well and truly stuck to the stovetop at this time, thanks to the crazy-glue consistency of the magma.
Jun 29 Not to sound full of myself, but I'm pretty sure this is the be all, end all of popsicle roundups. There's a little something for everyone: the foodies, the purists, the ones who prefer frozen yogurt, the ones who prefer a little alcohol, everyone.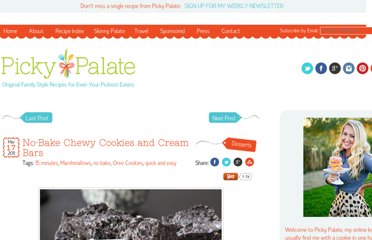 Oh how I love a treat that can be whipped up in about 15 minutes. My boys and their buddies couldn't get enough of these Chewy Oreo Bars we had as an after school snack this week. Sometimes my spontaneous recipe creations turn out to be the most fun, lol! Yes you use an entire package of Oreo Cookies, but what you get in return is a marshmallow-y Oreo treat that is worth every bite
A few days ago, I put a call out on Twitter for help. Marscapone help, to be specific. Many people came to the rescue, however it was @Ivoryhut her responded with a recipe idea that went beyond delectable. Tiramisu Pancakes.
I rolled my eyes at the red velvet cake trend, but now I can't get enough. I'll make any excuse to have 'cake' for breakfast– here's my take on a classic. Red Velvet Crepes (Makes about 24, 8″ crepes) Ingredients: – 1 1/2 cups all-purpose flour - 1 teaspoon baking powder - 1/2 teaspoon baking soda - 1/4 teaspoon salt - 3 tablespoons sugar - 2 cups butter milk - 1 1/4 cup whole or lowfat milk - 1 large egg - 1 teaspoon vanilla extract - 1 1/2 tablespoons cocoa powder, sifted - 1 tablespoon red food color gel - 2 tablespoons unsalted butter, melted + 2 tablespoons cooking oil (for pan)
Happy Wednesday, beautiful people. Factoid for you: Getting my car serviced stresses me. To deal, I totally made Churro Tots. Throw in stress eating and calls to dad, and it some how made everything okay. I encourage it!
I swear buttermilk is magic. I've dwelled on this before. Buttermilk seems to turn everything to gold.
There's a thing in my house that when you have ripe ol bananas either you make banana bread or banana fritters. These delicious tasty treats can be eaten morning, noon, or night, as a snack or as dessert. These fritters are so easy to make and will satisfy any craving you may have. So if you have a few of these bananas lying around your hose… don't toss them, put them to GREAT use!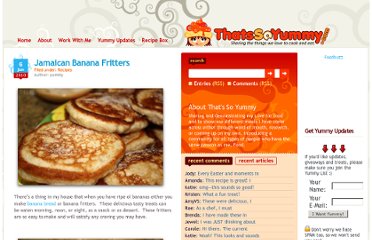 Robin shared some wonderful choices for healthier organic candy for Halloween last week.
Posted on Wednesday, 21st July 2010 by Grace Massa Langlois I have yet to meet a person who doesn't like Oreo cookies or Cream Cheesecake Cupcakes . Who could resist cream-filled chocolate sandwich cookies ? Not Me! Especially the double-stuffed Oreo cookie , it's one of the best cookies for dunking into a cold glass of milk.
I know, I've made a few pies lately . But see how these are different? Look at how adorable these are! I mean, come on. Could you resist?
Now I don't want to over sell this, so I'm going to be conservative and simply say, that these are... The Best Brownies In The WORLD. I know, big statement. They're called Slutty Brownies because they're oh so easy, and more than a little bit filthy. They're best served warm from the oven, with good quality vanilla ice cream (devastatingly I didn't have any in the freezer this time, so I guess I'll just have to make them again).