ART & DESIGN
Artist Bryan Lewis Saunders Has Drawn A Self-Portrait Everyday For Seventeen Years (PHOTOS) On March 30, 1995, Bryan Lewis Saunders embarked on an art project that he planned to continue for the rest of his life -- to create a new self-portrait every single day.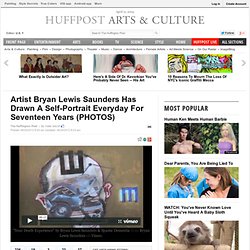 Intrigued by how our environments can shape our self-perception, the artist has created thousands of portraits since he began his project. (Today's self-portrait will be number 8,630.) Each portrait captures Saunders' most intimate of feelings about the world in relation to himself. "Like fingerprints, snowflakes, and DNA they are all different, no two are the same," he writes on his website.
He has organized his portraits into various series reflecting his mental states at the time, touching on everything from anxiety to love. 35 Amazing Uses For Old Pallets. - StumbleUpon. Really Amazing, A Single Sheet Of Paper...! Banned's TGIFDUMP (91 Pictures) - Banned In Hollywood.
GIFS & Images. OPTICAL ILLUSIONS and MOVIE POSTERS by Rowan Stocks Moore | News | Design | Arts | Tech | Entertainment | Latest News | The Skunk Pot. - StumbleUpon. Street Art | Photography & Design & Inspiration. Stunning Street Art From All Over The World. Sidewalk chalk guy. 20 awesome examples of street art - StumbleUpon. The Art of Gina Kiel - Draw As A Maniac. High school fashions, 1969. Most Amazing Miniature Food Artworks by Shay Aaron. - StumbleUpon.
Visual Inspiration - AaronWeissArt.com. Since 1999 home of design culture, leading independent publication for design, architecture, art, photography and graphics. Learn to draw - StumbleUpon.
---