Writing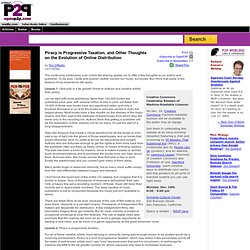 by Tim O'Reilly12/11/2002 The continuing controversy over online file sharing sparks me to offer a few thoughts as an author and publisher.
Piracy is Progressive Taxation, and Other Thoughts on the Evolution of Online Distribution - O'Reilly Media
John Fremlin's blog: frontpage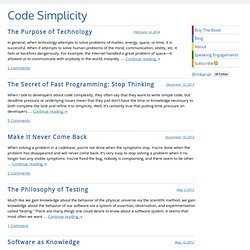 When I talk to developers about code complexity, they often say that they want to write simple code, but deadline pressure or underlying issues mean that they just don't have the time or knowledge necessary to both complete the task and refine it to simplicity.
Code Simplicity » Essays
Paradigms of Artificial Intelligence Programming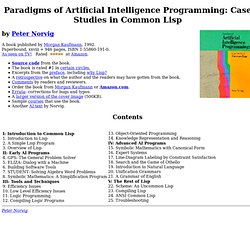 by Peter Norvig A book published by Morgan Kaufmann, 1992. Paperbound, xxviii + 946 pages, ISBN 1-55860-191-0.
by Joel Spolsky Sunday, January 02, 2005
Advice for Computer Science College Students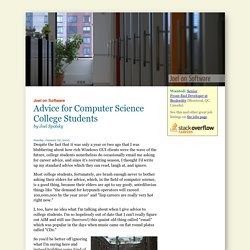 February 2, 2004