Writing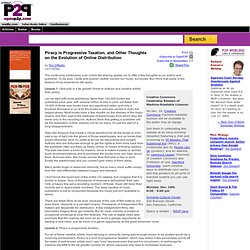 by Tim O'Reilly12/11/2002 The continuing controversy over online file sharing sparks me to offer a few thoughts as an author and publisher. To be sure, I write and publish neither movies nor music, but books. But I think that some of the lessons of my experience still apply. Lesson 1: Obscurity is a far greater threat to authors and creative artists than piracy. Let me start with book publishing.
Piracy is Progressive Taxation, and Other Thoughts on the Evolution of Online Distribution - O'Reilly Media
There's an awesome tool to keep UN*X /etc directories under revision control. In theory this is where all the system configuration should be. Of course it tends to leak out, but it's a start :) One missing piece is the list of installed packages: surely this is the main overview of a systems configuration?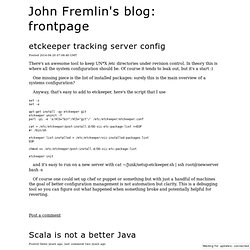 John Fremlin's blog: frontpage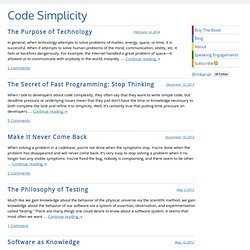 In general, when technology attempts to solve problems of matter, energy, space, or time, it is successful. When it attempts to solve human problems of the mind, communication, ability, etc. it fails or backfires dangerously. For example, the Internet handled a great problem of space—it allowed us to communicate with anybody in the world, instantly. … Continue reading When I talk to developers about code complexity, they often say that they want to write simple code, but deadline pressure or underlying issues mean that they just don't have the time or knowledge necessary to both complete the task and refine it to simplicity.
Code Simplicity » Essays
Paradigms of Artificial Intelligence Programming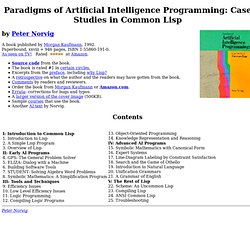 by Peter Norvig A book published by Morgan Kaufmann, 1992. Paperbound, xxviii + 946 pages, ISBN 1-55860-191-0.
by Joel Spolsky Sunday, January 02, 2005 Despite the fact that it was only a year or two ago that I was blubbering about how rich Windows GUI clients were the wave of the future, college students nonetheless do occasionally email me asking for career advice, and since it's recruiting season, I thought I'd write up my standard advice which they can read, laugh at, and ignore. Most college students, fortunately, are brash enough never to bother asking their elders for advice, which, in the field of computer science, is a good thing, because their elders are apt to say goofy, antediluvian things like "the demand for keypunch operators will exceed 100,000,000 by the year 2010" and "lisp careers are really very hot right now." I, too, have no idea what I'm talking about when I give advice to college students. I'm so hopelessly out of date that I can't really figure out AIM and still use (horrors!)
Advice for Computer Science College Students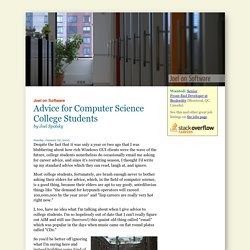 The Inmates Are Running the Asylum : Why High Tech Products Drive Us Crazy and How To Restore The Sanity This is the book that introduced the world to the concept of personas: rather than thinking of users as an abstract, difficult-to-describe, amorphous group of people, personas instruct us to talk about specific users who have names, personalities, needs, and goals. Would our users want a print preview feature? Who knows? But if Gerry Manheim, Account Executive, has to print out his weekly expense report as a part of his job, you better believe print preview needs to be in there.