Scholarships and aid
Charles Schwab Foundation Scholarship. College JumpStart Scholarship | Grants and Scholarships for Motivated Students - Apply Today.
Reading
College. Highschool. Scholarships.com: Free College Scholarship Search | Financial Aid Information | Free College Scholarships. Fastweb : Scholarships, Financial Aid, Student Loans and Colleges. Home - FAFSA on the Web-Federal Student Aid. Outreach & Events. Read more: FFRF gave $33,000 in scholarships for 2013.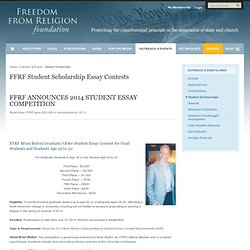 FFRF Brian Bolton Graduate/Older Student Essay Contest for Grad Students and Students Age 25 to 30 For Graduate Students to Age 30 or any Student Age 25 to 30 First Place - $3,000Second Place — $2,000Third Place — $1,000Fourth Place — $750Fifth Place — $500Sixth Place - $400Honorable Mention(s) - $200.
---