LISP/Scheme
CLISP - an ANSI Common Lisp Implementation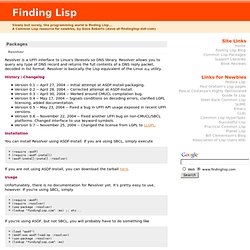 Finding Lisp - Packages
Resolver
ALU: index
Edi Weitz
LibCL
Let Over Lambda
Macros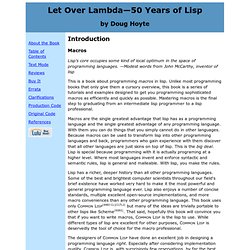 LISP Information and Resources
Lisp!
The Best Lisp links on the net!!!!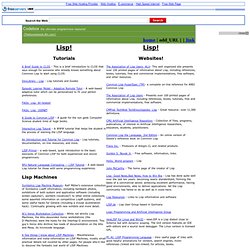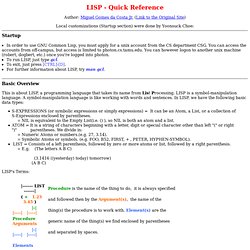 LISP - Quick Reference
LISP - Quick Reference Author: Miguel Gomes da Costa Jr.
Planet Lisp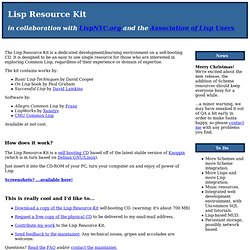 The Lisp Resource Kit is a dedicated development/learning environment on a self-booting CD.
Lisp Resource Kit
An Introduction and Tutorial for Common Lisp
This document provides a small set of resources and references on Common Lisp. It was originally prepared for students in the Part-Time MS Program in Computer Science at the Johns Hopkins University.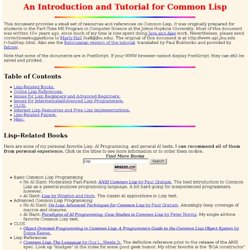 You will be coding in the Common LISP programming language for your assignments. Since you are already a third-year student, you will be learning the language on your own, with the following assistance: a set of tutorial notes to guide you through Common LISP in 4 weeks a LISP development environment to let you experiment with the language and work on the exercises from the tutorial notes recommended references on Common LISP some web resources for learning LISP
Learning Lisp for CMPT 310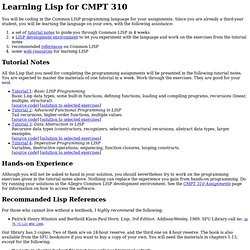 I saw the InteractiveFiction project over in CeeProgramsForBeginners and, seeing some of the code there, was reminded why I have been learning lisp. I wrote an alternative version. It's about the same size, more readability, and has more functionality, and even some syntactic sugar. :) I've added comments to the code, which should hopefully kind of explain what's going on.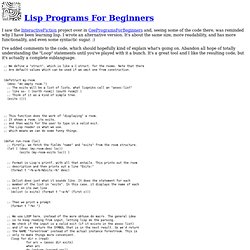 Lisp Programs For Beginners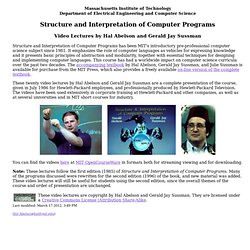 Massachusetts Institute of Technology Department of Electrical Engineering and Computer Science Video Lectures by Hal Abelson and Gerald Jay Sussman
Start up your Lisp implementation.
Common Lisp/First steps/Beginner tutorial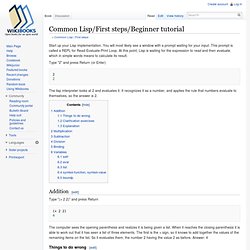 index
This page is your entry to the course material.
6.001 - Structure and Interpretation of Computer Programs - Fall 2005