ANIMALS
DOG TRICKS, TIPS AND INSIGHTS, Foods that are Harmful or Fatal to Dogs. Many common foods are actually harmful or even fatal to dogs.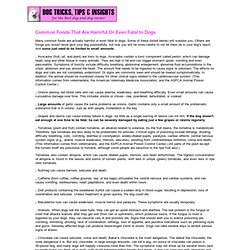 Some of these (listed below) will surprise you. Others are things you would never give your dog purposefully, but now you will be more careful to not let them be in your dog's reach. And some just need to be limited to small amounts. Avocados (fruit, pit, and plant) are toxic to dogs. Avocados contain a toxic component called persin, which can damage heart, lung and other tissue in many animals. 25 Most Beautiful Animals Photography on StumbleUpon. Elephant Care International, conservation and healthcare. The Elephant Sanctuary : Hohenwald Tennessee.
Elephant | Basic Facts About Elephants. Habitat loss is one of the key threats facing elephants.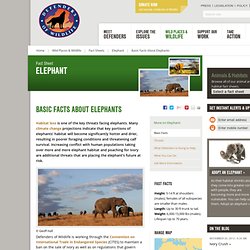 Many climate change projections indicate that key portions of elephants' habitat will become significantly hotter and drier, resulting in poorer foraging conditions and threatening calf survival. Increasing conflict with human populations taking over more and more elephant habitat and poaching for ivory are additional threats that are placing the elephant's future at risk. © Geoff Hall Defenders of Wildlife is working through the Convention on International Trade in Endangered Species (CITES) to maintain a ban on the sale of ivory as well as on regulations that govern worldwide elephant protection. Of the two species, African elephants are divided into two subspecies (savannah and forest), while the Asian elephant is divided into four subspecies (Sri Lankan, Indian, Sumatran and Borneo).
Orion Magazine. S Encyclopedia - facts and information about elephants since 1995. Does anyone else, apart from Mrs Sangduen Chailert, and Elephant Nature Park in Thailand, believe its enough to "isolate" an elephant, if its postive for Tuberculosis, in a place with a +70 elephants turnover throughout the years, 16 deaths with no public autopsy reports, and apr 100 international visitors daily, included children?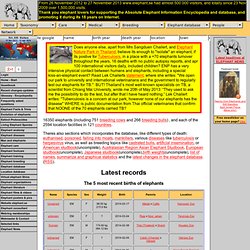 ENP has a very intensive physical contact between humans and elephants, including a special kiss-an-elephant event? Read Lek Chailerts statement, where she writes: "We open our park to university and international veterinarians and the government to regularly test our elephants for TB. ". Cute Overload :D. Animal Web Cams at the National Zoo. The National Zoo is home to 2,000 individual animals of nearly 400 different species.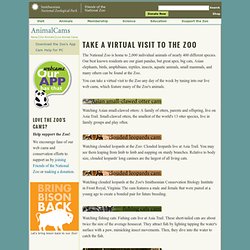 Our best known residents are our giant pandas, but great apes, big cats, Asian elephants, birds, amphibians, reptiles, insects, aquatic animals, small mammals, and many others can be found at the Zoo. You can take a virtual visit to the Zoo any day of the week by tuning into our live web cams, which feature many of the Zoo's animals. Nature pictures, nature photos, wildlife nature photography. INSECTS. BEES. BIRDS. CATS.
---