Music
Construire un accord de guitare | Solfège | De Guitare
Music Animation Machine : Site Index
Home | Site Map | Watch | FAQ | History | Store | Contact Stephen Malinowski Site Index Note: this index has been replaced by a new one here Notes on this index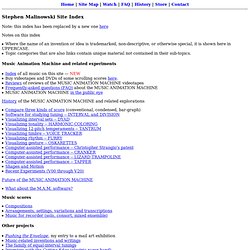 【ご質問】すでに妊娠七ヶ月、結婚式の最中に打ち明けても大丈夫? Q.一ヶ月後に結婚式を控えています。ただ…、実は今、妊娠七ヶ月なんです。つわりはすでに治まっていますし、ハイウェストデザインのウェディングドレスを選んだので、お腹の膨らみも、それほど目立たないとは思うのですが、結婚式のとき、ゲストに、自分がすでに妊娠していることを告げた方がいいでしょうか?それとも、あえて、わざわざ報告することもないのでしょうか。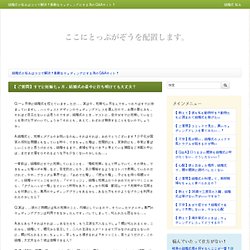 Our Story | Il Giardino Armonico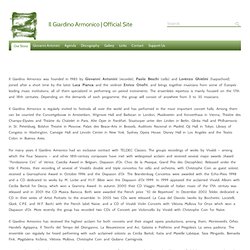 Our Story Il Giardino Armonico was founded in 1985 by Giovanni Antonini (recorder), Paolo Beschi (cello) and Lorenzo Ghielmi (harpsichord), joined after a short time by the lutist Luca Pianca and the violinist Enrico Onofri, and brings together musicians from some of Europe's leading music institutions, all of them specialized in performing on period instruments. The ensemble's repertory is mainly focused on the 17th and 18th centuries.
Blog - New Feature: Auto play for Muziboo widget embeds
NoteWorthy Software - Home of NoteWorthy Composer Music Notation Software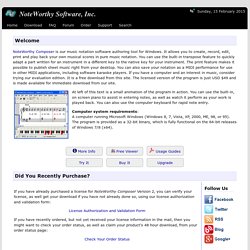 NoteWorthy Composer is our music notation software authoring tool for Windows. It allows you to create, record, edit, print and play back your own musical scores in pure music notation. You can use the built-in transpose feature to quickly adapt a part written for an instrument in a different key to the native key for your instrument. The print feature makes it possible to publish sheet music right from your desktop. You can also save your notation as a MIDI performance for use in other MIDI applications, including software karaoke players. If you have a computer and an interest in music, consider trying our evaluation edition.
BIRKIN TREE - Irish Music
MadforTrad CD-ROM Tutorials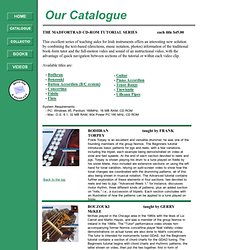 THE MADFORTRAD CD-ROM TUTORIAL SERIES each title $45.00 This excellent series of teaching aides for Irish instruments offers an interesting new solution by combining the text-based (directions, music notation, photos) information of the traditional book-form tutor and the full-motion video and sound of an instructional video, with the advantage of quick navigation between sections of the tutorial or within each video clip. Available titles are: System Requirements: - PC: Windows 95, Pentium 166MHz, 16 MB RAM, CD ROM - Mac: O.S. 8.1, 32 MB RAM, 604 Power PC 180 MHz, CD ROM
Ecrire une tablature format texte avec le rythme Salut a tous, dans ce tutoriel, je vais vous montrer une technique simple pour intégrer le rythme a une tablature texte type standard. je vais emprunter le début de la tablature écrite par cannelle1 de "Californication" des Red Hot Chili Peppers. voici l'extrait :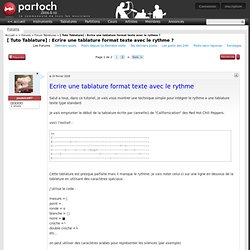 [ Tuto Tablature] : Ecrire une tablature format texte avec le rythme ?
Classical Guitar Tablature
Lucas Michailidis - J.S Bach Invention No.13 (Arr. Michailidis)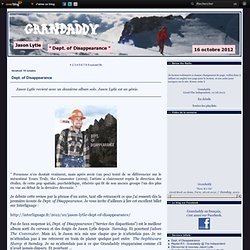 Grandaddy et Jason Lytle : le blog français
Vendredi 19 octobre 5 19 /10 /Oct 19:55 Jason Lytle revient avec un deuxième album solo. Jason Lytle est un génie. " Personne n'en doutait vraiment, mais après avoir (un peu) tenté de se différencier sur le mésestimé Yours Truly, the Commuter (2009), l'artiste a clairement repris la direction des étoiles, de cette pop spatiale, psychédélique, éthérée qui fit de son ancien groupe l'un des plus en vue au début de la dernière décennie. "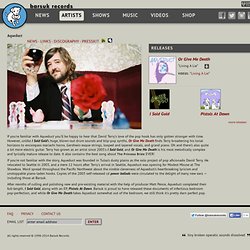 If you're familiar with Aqueduct you'll be happy to hear that David Terry's love of the pop hook has only gotten stronger with time. However, unlike I Sold Gold's huge, blown-out drum sounds and blip-pop synths, Or Give Me Death finds Terry broadening his tonal horizons to encompass mariachi horns, Gershwin-esque strings, looped and layered vocals, and grand piano. Oh and there's also quite a lot more electric guitar. Terry has grown as an artist since 2005's I Sold Gold, and Or Give Me Death is his most melodically complex and lyrically mature release to date.
Aqueduct / Barsuk Records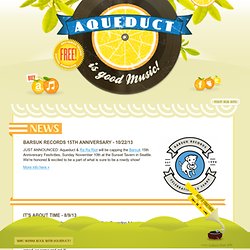 Aqueduct Is Good Music - The Official Home of Aqueduct and David Terry
JUST ANNOUNCED: Aqueduct & Ra Ra Riot will be capping the Barsuk 15th Anniversary Festivities, Sunday November 10th at the Sunset Tavern in Seattle. We're honored & excited to be a part of what is sure to be a rowdy show! More info here » Aqueduct is headed to the heartland for a Texas Style Recording Adventure. We'll be working with superstar engineer/drummer/collaborator Matt Pence (Centro-matic) at the Echo Lab in Denton, TX. It's been a long time since Aqueduct has recorded there…hell, it's been a while since we've released a record.
Bob Marley - Redemption Song
Redempton Song Bob Marley Strum with backs of fingers, and mute and/or avoid 1st string for most of song. G Em7 Old pirates, yes, they rob I C (½) C/B (½) Am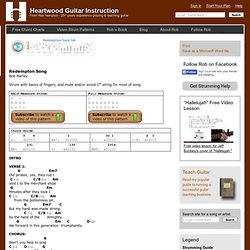 Encyclopédisque - Discographie : Annie NOBEL et Philippe RICHEUX
TradConnect
Camélia Jordana a vaincu La Rochelle - Musiques
Posted: Nov 11, 2008 Ubuntu Hardy Heron does not seem to be able to play MIDI files out of the box. Still, the software and resources needed to do so are readily available and should not pose much of a challenge to set up. Though there is more than one route to obtaining MIDI support on Ubuntu, the one that worked best for me was through a soft synth called Timidity++ (or just Timidity).
Playing MIDI files in Ubuntu
The earliest published bagpipe settings of Maggie Lauder are both for Irish pipes. They are closely related to Scottish fiddle versions and to each other: O'Farrell's 5 strains are all in Colclough's 8-strain version as strains 1, 2, 3, 5 and 6, and Colclough seems the more polished of the two. SCORE & MIDI [opens in a new window] SCORE & MIDI [opens in a new window] O'Farrell's setting is from his Collection of National Irish Music for the Union Pipes, London, 1804.
Maggie Lauder - Irish Pipes
‪Peter Horan and Gerry Harrington play "The Old Grey Goose"‬‏
Scottish Lyrics And Chords
A poet of Bronx and the godfather of rap are dead ! | Vendredi 03 Juin 2011 sur StreetPress
R.I.P. Gil Scott-Heron ! Hommage à celui que l'on désignait comme le parrain voir le père fondateur du rap. S'il n'aimait pas être mentionné ainsi, l'influence de son « spoken word » est considérable sur toute la génération afro-américaine des années 70 à aujourd'hui. Pour le comprendre, retour sur 5 des dates clefs de sa création poétique et musicale. 1971 : The revolution will not be televised
Reader (1000+)
John Mayer - Battle Studies
Une masterclass avec John Mayer 
Festival 60cordes, de belles guitares dans l'Oise 
Outils en ligne pour écouter de la musique
1971, l'année du rock | Calyptratus
Completement inapproprié by Julien Neel