React !
Get flash to fully experience Pearltrees
Une fois ses 75% d'impôts payés, Lilliane B. met 65 minute(s) pour gagner votre salaire annuel.
Some of the ingredients in beauty products aren't that pretty.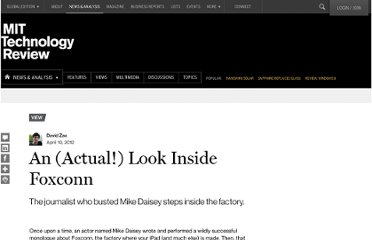 Once upon a time, an actor named Mike Daisey wrote and performed a wildly successful monologue about Foxconn, the factory where your iPad (and much else) is made. Then, that actor got busted, by a journalist named Rob Schmitz, for including falsehoods in his monologue. (I wrote all about it here .
La liberté d'expression ne peut être réduite au fait de pouvoir s'exprimer, et ne serait rien sans le droit de lire...