Patterns
Pattern Search Results for "loom"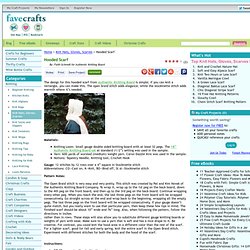 There are currently no images from other crafters. close Terms & Conditions You must enter into this Agreement if you want to submit digital images or other content to Prime Publishing through Sharing Customer Images (the "Service"). As used in this Agreement, "we" or "Prime Publishing" means Prime Publishing, LLC. and "you" means the individual or entity submitting materials to Prime Publishing.
Hooded Scarf
How to Loom Knit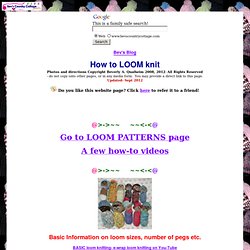 Bev's Blog How to LOOM knit Photos and directions Copyright Beverly A. Qualheim 2008, 2012- All Rights Reserved - do not copy onto other pages, or in any media form. You may provide a direct link to this page. Updated- Sept 2012 Do you like this website page?
Knifty Knitter Child's Hat
My new favorite loom for knitting amigurumi, washcloths,afghan squares, and other little items is the KB Sock Loom 2 which is a smaller version of the All-n-One Loom. Both of these looms have a 3/8 inch gauge and can easily accommodate one strand of worsted weight yarn. Also, both can be adjusted for decreases or increases which proved to be the perfect loom for today's featured project, Ms. Kitty, pictured above. Ms.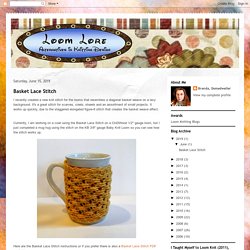 Loom Lore
Make sure that the Web site address displayed in the address bar of your browser is spelled and formatted correctly. If you reached this page by clicking a link, contact the Web site administrator to alert them that the link is incorrectly formatted. HTTP Error 404 - File or directory not found. Internet Information Services (IIS) Go to Microsoft Product Support Services and perform a title search for the words HTTP and 404 . Open IIS Help , which is accessible in IIS Manager (inetmgr), and search for topics titled Web Site Setup , Common Administrative Tasks , and About Custom Error Messages .
Free Loom Knitting Patterns
KNITPRO knitPro is a free web application that translates digital images into knit, crochet, needlepoint and cross-stitch patterns. Simply upload jpeg, gif or png images and knitPro will generate a graph sizable for any fiber project. knitPro digitally mimics the tradition of pre-industrial craft circles who freely shared patterns and passed them down from generation to generation. More about microRevolt and knitPro here.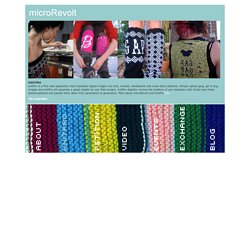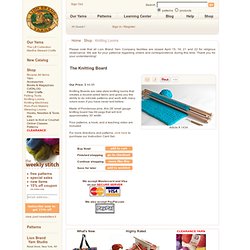 Our Price: $ 44.95 Knitting Boards are rake-style knitting looms that creates a double-sided fabric and gives you the ability to do intricate patterns and work with many colors even if you have never knit before. Made of Ponderosa pine, this 28' small gauge knitting board has 84 pegs that will knit approximately 30' width.
The Knitting Board (Knitting Looms, Machines & More) at Lion Bra
Knifty Knitter Head Scarf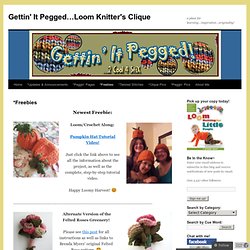 Newest Freebie: Loom/Crochet Along: Pumpkin Hat Tutorial Video! Just click the link above to see all the information about the project, as well as the complete, step-by-step tutorial video.
*Freebies « Gettin' It Pegged…Loom Knitter's Clique
Patterns
Flexible Scarf
free knitting loom patterns
How to use this website. Pattern links are listed on the right. Instructions and blogs are listed on the left. 8/7/2013 - updating and removing some links. If you want to be included on the weblinks, please send an email to springyknitting@yahoo.com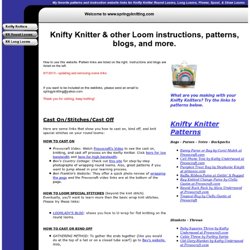 KK Round Looms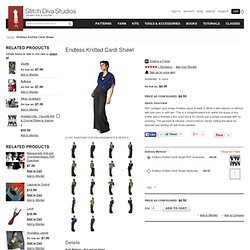 Knit Pattern - Not actual items Part cardigan, part shawl: Endless ways to wear it. Work it with sleeves or without, with one yarn or with two. This is a straightforward knit, within the grasp of any knitter who's finished a first scarf since it's mostly just a simple rectangle with no seaming. The garment is cleverly constructed by merely folding the piece as directed and binding off with three needles. It's fast, it's easy, it's flattering to any body type and with just shawl pin or belt can be draped "right-way-up" or "upside-down" for countless looks.
Knit Pattern - Endless Knitted Cardi Shawl
Free Knitting Pattern 90687AD Stockinette Stitch Shrug : Lion Br
Who needs to make an entrance when you can have such a memorable departure? Finished bust measurements: (38, 41 ½, 44 ½, 47)" / 86 (97, 105, 113, 120 ) cm Yarn: 12 (12, 13, 13, 14) skeins Briggs & Little Atlantic (100% wool; 136 yd/124.5 m per 4 oz/113.5 g) in Red
Sylvi by Mari Muinonen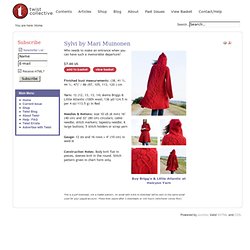 Vivian by Ysolda Teague
Contoured cables love your curves and warm them too. Finished bust measurements: 32 (34, 36, 38, 40, 42, 44, 46, 48, 50)" / 81 (86.5, 91.5, 96.5, 101.5, 106.5, 112, 117, 122, 127) cm Yarn: 9 (9, 10, 11, 11, 12, 12, 13, 13, 14) skeins Fyberspates Chunky Scrumptious (45% silk, 55% Bluefaced Leicester; 120 yds/110 m per 3 ½ oz/100 g skein) in Olive Needles & Notions: Size 8 US (5 mm) 32" (80 cm) circular; Size 8 US (5 mm) dpns; scrap yarn; zipper Gauge: 17 sts and 25 rows = 4" (10 cm) in St st; 16 sts and 28 rows = 4" (10 cm) in seed st; large cable = 3" (7.5 cm) wide
A loomy pattern coming your way! I found this scarf in my stash room, the only thing that was missing from being and FO was the bind off--I remember starting this scarf about a year ago, hehehe, I am a procrastinator for sure! This scarf was knitted on a knitting board with 14 pegs, using the stockinette stitch. Quicky pattern Materials: Knitting board with at least 14 pegs (14 pegs on each rail).
Purling Sprite : May 2007
Authentic Knitting board - Adjustable Knitting Boards, patterns,
FREE PATTERNS for the Authentic Knitting Boards. Click on the links ABOVE to view patterns by category. All of our patterns are in PDF format.
Knitting Looms, knitting loom instructions, free loom knitting p
The Project Gutenberg EBook of Exercises in Knitting, by Cornelia Mee This eBook is for the use of anyone anywhere at no cost and with almost no restrictions whatsoever. You may copy it, give it away or re-use it under the terms of the Project Gutenberg License included with this eBook or online at www.gutenberg.org Title: Exercises in Knitting Author: Cornelia Mee Release Date: April 11, 2007 [EBook #21032] Language: English Character set encoding: UTF-8 *** START OF THIS PROJECT GUTENBERG EBOOK EXERCISES IN KNITTING *** Produced by Andrew Sly, Mark C. Orton and the Online Distributed Proofreading Team at http://www.pgdp.net Border, Pretty Vandyke
Exercises in Knitting
Free Knitting Patterns: Knitting Projects, Vintage Knitting Patt
Bev's Blog How to LOOM knit Photos and directions Copyright Beverly A. Qualheim 2008, 2012- All Rights Reserved - do not copy onto other pages, or in any media form. You may provide a direct link to this page.
Knitting LOOMS