Looms
Alpaca Products, Weaving Looms. Wood knitting looms, knitting boards, loom. Home > Wood Looms > Hat Looms > Hat Looms Regular Gauge (RG) The regular gauge (RG) hat knitting looms are perfect to be used with 2 strands of WW 4-ply yarn and knit the double stitch, providing you with a tight stitch.
Note: 5 Different hat sizes available: Adult-recommended for males. Authentic Knitting board - Adjustable Knitting Boards, patterns, FREE PATTERNS for the Authentic Knitting Boards.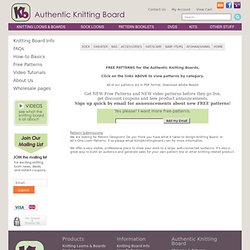 Click on the links ABOVE to view patterns by category. All of our patterns are in PDF format. Download Adobe Reader Get NEW Free Patterns and NEW video patterns before they go live,get discount coupons and new product announcements.Sign up quick by email for announcements about new FREE patterns! Yes please! Www.KnitChat.com: Proud hoster of Iris' Knitting Loom and Knitti. Rake Knitting Pattern, make your own knitting loom, loom project. "Make your own knitting rakes" This is a rake knitting pattern I am working on for this home made knitting loom.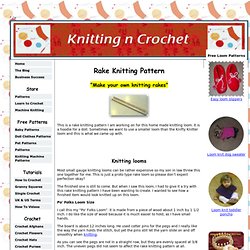 It is a hoodie for a doll. The Lost Art of Knitting Nancies. THE LOST ART OF KNITTING NANCYS Pictures and instructions on how to make and use them (Viewed best in Internet Explorer.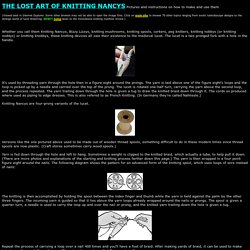 Some other browsrs may not be able to open the image files. Click on main site to browse 70 other topics ranging from exotic kaleidoscope designs to the strange world of lucid dreaming. NEW!!! Knifty Knitter Loom Clips. Authentic Knitting board - Adjustable Knitting Boards, patterns, Making your own loom. You don't have to spend a lot of money to get into looming.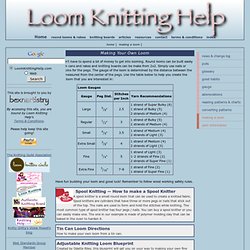 Round looms can be built easily from tin cans and rakes and knitting boards can be make from 2x2. Simply use nails or cotter pins for the pegs. The gauge of the loom is determined by the distance between the pegs, measured from the center of the pegs. Use the table below to help you create the gauge loom that you are interested in: Have fun building your loom and good luck! How to Make an Easy Knitting Loom (Tutorial) This tutorial is now available in PDF format.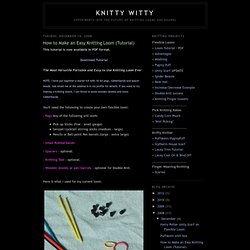 The Most Versatile Portable and Easy to Use Knitting Loom Ever NOTE: I have put together a starter kit with 16-64 pegs, rubberbands and spacer beads. Just email me at the address is in my profile for details. If you want to try making a knitting board, I can throw in some wooden dowels and more rubberbands.
---