Household Tips
At my house we hate doing dishes. Doing laundry is considered slightly less painful. We have a dishwasher but because we almost never eat out and frequently have to make food from scratch we have LOTS of dishes and the dishwasher can't keep up. We've even seriously considered having two dishwashers.
Simplify Doing the Dishes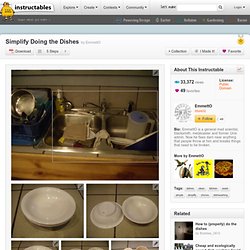 40 clever uses for household objects | Environment | The Guardia
A is for ... aluminium cans To create a simple Chinese lantern, mark two lines around a clean empty can, about 2.5cm from the top and bottom. With a sharp craft knife, make vertical cuts about 1.5cm apart between the lines.
08.09.09 | by Erik Anderson Whether it's product branding, package design or projects for ourselves, we're pleased when we find a solution that's very effective and creative, while keeping resources to a minimum. This idea is very inexpensive (Buy Kit Now $38). And it's a great way to recycle a wine bottle.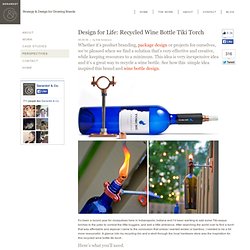 The multitasking hall of fame. 10 New Uses for Lemon
How can I de-funkify stinky towels & clothing items? I have some items of clothing--primarily jeans, but also some towels--that have a faint odor of B.O. even after washing & bleaching. This is probably because during hot summer months, I sweat a lot, and these items are used a lot and are often damp. I also probably put off washing them longer than I should. Be that as it may. Is there any kind of washing or treatment I can do that will get rid of this lingering smell?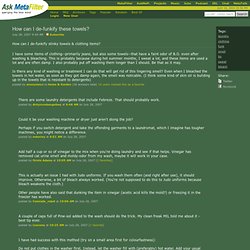 How can I de-funkify these towels?
Cheap and effective sanitizer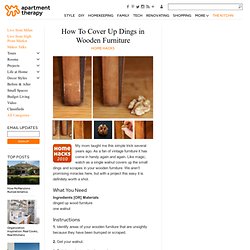 My mom taught me this simple trick several years ago. As a fan of vintage furniture it has come in handy again and again. Like magic, watch as a single walnut covers up the small dings and scrapes in your wooden furniture. We aren't promising miracles here, but with a project this easy it is definitely worth a shot. What You Need
How To Cover Up Dings in Wooden Furniture Home Hacks | Apartment
Paid cleaning help can be a wonderful short-cut to a clean and organized home--if the household budget can stand the cost. But what do you do if the Prize Patrol bypassed your door this year? Take a speed-cleaning lesson from the pros!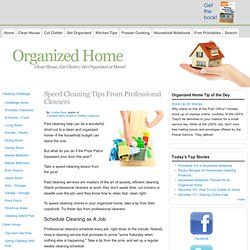 Speed Cleaning Tips From Professional Cleaners