Garden
Make a cheap backyard ice-skating rink. For materials you will need.... 36 - 4" schedule 20 PVC sewer pipe = around $5-$8dollars* (we will be using 10ft pipes)4 - 4" PVC corners = around $3*1 - 40' x 100' 6 mil polyethylene plastic liner = around $100* ** Total cost = around $300Total use = around 3-5 winters These are the basic materials for building your average sized ice rink, but it all comes done to the tarp size and how much PVC you have.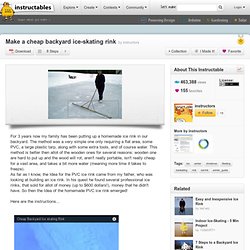 Mother Nature's Best Fertilizers and Bug Repellents. Gardening naturally with the best repellents and fertilizers helps keep your yard and garden safe for everyone.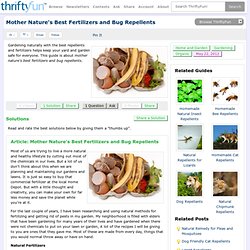 This guide is about mother nature's best fertilizers and bug repellents. Read and rate the best solutions below by giving them a "thumbs up". Article: Mother Nature's Best Fertilizers and Bug Repellents. Gardening with Strawberry Jars. By Nikki Phipps (Author of The Bulb-o-licious Garden) Strawberry jars are nothing more than planters with small planting pockets along the sides.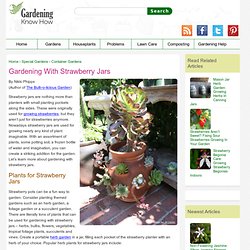 These were originally used for growing strawberries, but they aren't just for strawberries anymore. Nowadays strawberry jars are used for growing nearly any kind of plant imaginable. With an assortment of plants, some potting soil, a frozen bottle of water and imagination, you can create a striking addition for the garden. Bottle herb garden – a recycling project. KidWash 2 : PVC Sprinkler Water Toy. Head to your local hardware store for the following 3/4" pipe and fittings: 2 ten foot lengths of PVC3 end caps1 threaded female hose connector (slip fit)2 elbow joints (90 degree)2 T connections1 pack quarter circle mister jets (12 count) If the option of chaining your KidWash with other water toys interests you, just pick two end caps and add: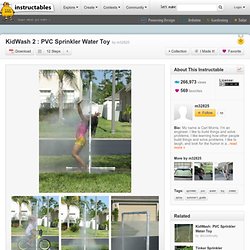 Backyard Theater. My vision was a 8' x 16' screen.
At the local Lowes I purchased: 4) 4' x 8' sheets of 7/16 OSB ($7 per sheet)3) 10' 2 x4's ($3-4 per board)8) 8' 2 x 4's ($2-3 per board)1) Box of 1 5/8" dry wall screws (coarse thread) ($5/box)1) tube of painters caulk ($2/tube)1) partial can of white-ish paint I had around. Tools --skill sawscrew guntape measurespeed squarevarious clamps. Bee Hive in a Bucket. Bees are having a tough time world-wide.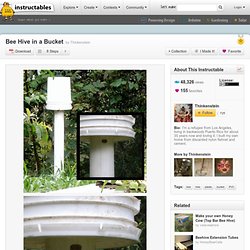 We need bees for our agriculture. This bee hive is not designed for harvesting honey. Outdoor Speaker. 1) Okay, lets start building our tiki by taking our large flowerpot and turning it upside down.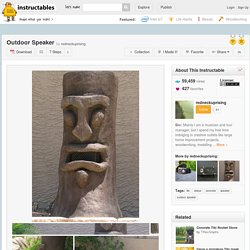 This will be the base of the tiki, and give it the distinct flared bottom. The rest of the frame is pretty simple from here. You will need to break out your Liquid Nails and caulking gun and apply a generous amount to the top of your upside down flower pot. How to Grow Raspberries. Raised beds eliminate root rot The original 20 plants have grown into a full bed from which the author picks 2 gallons of raspberries a day during the summer months, roughly a pint per plant, though the amount tapers off as fall approaches.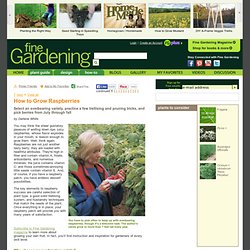 Raspberry plants hate wet feet, and they are gross feeders. 6 Crazy Concepts for Micro Gardens That Actually Work, And One W. Want more fruit from less space? Espalier your trees! by Rev. J. After originating in the semi-arid regions of the middle east, espaliering (is-'pal-yer-ing) became a commonly employed fruit tree growing method of the Greco-Roman world.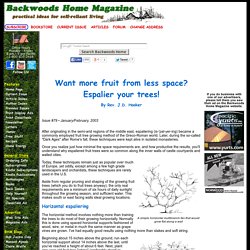 Later, during the so-called "Dark Ages" after Rome's fall, these techniques were kept alive in isolated monasteries. Once you realize just how minimal the space requirements are, and how productive the results, you'll understand why espaliered fruit trees were so common along the inner walls of castle courtyards and walled cities. Today, these techniques remain just as popular over much of Europe, yet oddly, except among a few high grade landscapers and orchardists, these techniques are rarely used in the U.S.
Aside from regular pruning and shaping of the growing fruit trees (which you do to fruit trees anyway), the only real requirements are a minimum of six hours of daily sunlight throughout the growing season, and sufficient water. This makes south or east facing walls ideal growing locations. 66 Things You Can Can Grow At Home: In Containers, Without a Gar. Backyard Farmers: 25 Websites You Should Be Reading | Apartment. Welcome to Mad City Chickens. Home. <span><a target="_self" href="/index.html">Home</a><br /><a target="_self" href="/Products.html">Products</a><br /><a target="_self" href="/news.html">Articles</a><br /><a target="_self" href="/legalstuff.html">Legal Stuff</a><br /><a target="_self" href="/Resources.html">Resources</a><br /><a target="_self" href="/Events.html">Events</a><br /><a target="_self" href="/Photos.html">Photos</a><br /><a target="_self" href="/Consulting-Svc.html">Consulting Svc</a></span> Copyright 2010 Chickens In The Yard, LLC.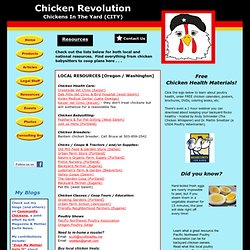 All rights reserved. LOCAL RESOURCES [Oregon / Washington] Do it Yourself. Lately, the idea of green walls has become very fashionable. Either part of a building or free standing, this sustainable innovation is healthy and great to look at. Also known as living walls, these vertical gardens are packed with flora that benefits everything from our lungs to our ears! Let's have a detailed look into the benefits of green walls and then find out how to install your very own green wall at home…
Do it Yourself « Page 2. It's approaching the end of summer and rather than saying good-bye to your herbs why not go inside and try an indoor vertical herb garden? But, if you live in an apartment and have space restrictions a permanent vertical herb garden might just be the solution for you – where you can have herbs inside all year round. You may also like to get creative and add colour by adding succulents. When growing any vertical garden indoors or outdoors the biggest consideration is choosing the wall and analysing how much light you will get. The light will impact the herbs you can grow inside. What should you grow your herbs in? Do it Yourself « Page 3. Growing vertical is in vogue. Wander European streets and you will stumble upon beautiful gardens and magnificent living walls which leave you breathless and envious. The Europeans know how to make the best use of the limited space they have with their vertical gardens.
But, even when space saving isn't the objective, the vertical gardens are about beauty. Europe is covered with plants. Do it Yourself « Page 4. Do it Yourself « Page 5. Vertical gardening is a fun, creative way to grow plants in urban spaces! Below is just a sample of what you can create with ready-to-go planters and kits. The first few images are of GroVert Vertical Gardening Systems by Bright Green. There are two different sized panels (10 and 45), and each are planted, then hung on the wall using their included mounting bracket.
Seeds of Change Homepage. Seed Savers Exchange. Tater Totes: Potato grow bags. - Potatoes are traditionally "hilled up" with dirt to prevent sun scald (poisonous green skins) from forming on the spuds. The dirt is only used as cover and is not necessary for the spuds to form. - Potatoes are produced along the stem of the plant and not on the roots. Supposedly the longer the stem, the more potatoes produced (theoretically).
---