Scribus
Créer un sommaire et une pagination sous Scribus » Tutoriaux Crea-Multimedia
En janvier 2012, NetPublic.fr informait de la sortie du logiciel libre de PAO Scribus 1.4 . Scribus constitue une alternative sérieuse aux logiciels propriétaires de publication assistée par ordinateur Adobe InDesign et QuarkXPress. Voici des guides pour apprendre à utiliser Scribus 1.4 et ainsi faciliter la prise en main de cette application libre pour mettre en page un journal, une brochure, un dépliant, une carte postale… Les possibilités à explorer sont multiples pour peu que l'on maîtrise le logiciel à minima :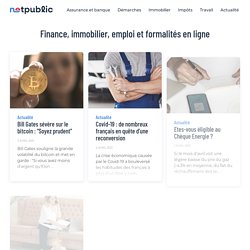 Takeaway: Learn how to use the Scribus open source page layout application to create PDF documents, and then how to add interactive elements to those PDFs. The ability to create PDF forms that end users can fill out (without having to print) can be a real boon to making your business efficient. With these documents, users can download them, fill them out, save them, and send them back to you. No more scanning and faxing. The problem is creating these documents typically requires the purchase of costly Adobe software. Although Adobe Reader is the de facto standard for creating PDFs, some smaller businesses can't afford the software.
Create interactive PDF documents with Scribus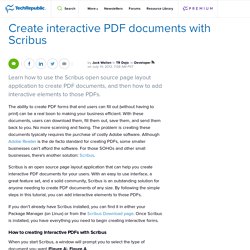 After almost 4 years of intensive work, the Scribus Team ( www.scribus.net ) has released the new stable version 1.4.0 of the Open Source desktop publishing program Scribus.
1.4.0 Release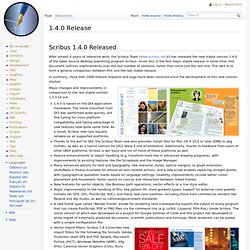 Yoono
2012-04-18 : PRESENTATION Scribus le monde merveilleux de la PAO - Cenabumiki
Un article de Cenabumiki. Contenu 2h30 pour décortiquer Scribus dans sa version 1.4.0 Durant cette session, nous aborderons : Comment s'organiser avant de commencer De la pratique avec la création d'un Triptyque Création du document de base Gestion du texte Gestion des illustration Impression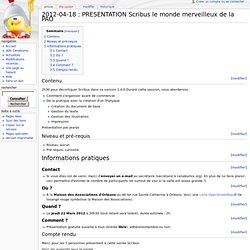 Kingthings homepage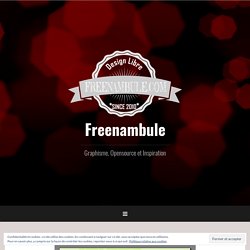 Scribus 01 : réaliser une brochure A4 en PDF | Freenambule
Premier tutoriel sur Scribus.
Roadmap - Mantis Issue Tracker for Scribus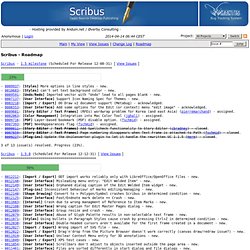 Scribus - Roadmap Scribus - 1.5 milestone (Scheduled For Release 12-08-31) [ View Issues ] ========================================================
Scribus - Google+
Scribus is an incredibly powerful Desktop Publishing program similar to Microsoft Publisher and Pagemaker.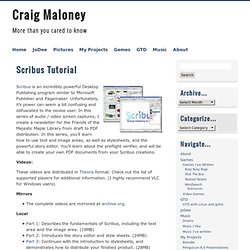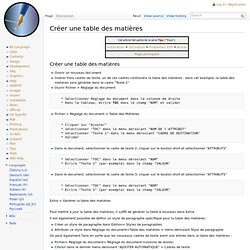 Créer une table des matières
Ouvrir un nouveau document Insérer trois cadres de texte, un de ces cadres contiendra la table des matières : dans cet exemple, la table des matières sera générée dans le cadre "Texte 1" Ouvrir Fichier > Réglage du document
Support
Scribus is supported by a group of dedicated and friendly people highly knowledgeable about Desktop Publishing.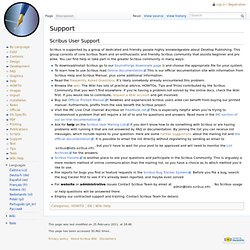 This category is the main Contents (Table of Contents, TOC) page for the Scribus wiki. News and Publications Usage
Category:Contents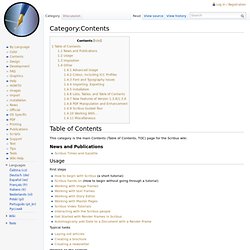 No, Scribus is analog of QuarkXpress (Quark) or InDesign (Adobe). by jeanjot Apr 8
Get Started with Scribus
Introduction The following beginner's tutorial on the use of Scribus for page layout and PDF creation is based on Get Started With Scribus by Niyam Bhushan which has been published in April 2004.
A partager sans retenue ... Je vais passer en revue la ou plutôt devrais-je dire les barres de menu de Scribus . En effet celle-ci est par défaut composée de 4 palettes que l'on peut positionner à notre guise dans l'interface de travail, utilisant le même principe que la suite bureautique OpenOffice. La palette fichier composée de 7 outils : Ouvrir un nouveau document, ouvrir un document existant, enregistrer le document courant, fermer le document courant et imprimer pas grand chose à ajouter à ces premiers outils puisqu'ils sont disponibles sur tous les logiciels. L'outil suivant permet de vérifier la bonne résolution des images, la taille des cadres de texte en fonction de leur contenu, etc. Et pour terminer cette palette nous propose l'export au format PDF.
La boite à outils de Scribus » Tutoriaux Crea-Multimedia
Scribus est un logiciel qui existe depuis longtemps et que j'avais mentionné dans ma sélection du DVD Cuk de Noël Cependant, à cette époque, le logiciel n'était pas réellement disponible pour Mac sauf à passer par une installation complexe ou à subir une version instable en cours de développement. Cela explique pourquoi ce logiciel n'a pas déjà été présenté sur Cuk.ch.
Scribus : la PAO pour tous