Heavy Rain
Bandes annonces - Heavy Rain - Présentation japonaise
Heavy Rain Screenshots, Wallpapers and Pics
Heavy Rain - Official E3 Trailer [HD]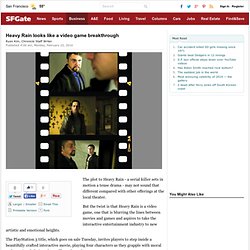 The plot to Heavy Rain - a serial killer sets in motion a tense drama - may not sound that different compared with other offerings at the local theater. But the twist is that Heavy Rain is a video game, one that is blurring the lines between movies and games and aspires to take the interactive entertainment industry to new artistic and emotional heights. The PlayStation 3 title, which goes on sale Tuesday, invites players to step inside a beautifully crafted interactive movie, playing four characters as they grapple with moral and emotional choices that spill out from the story.
Heavy Rain looks like a video game breakthrough
Heavy Rain for PS3 - Heavy Rain Playstation 3 - Heavy Rain PS3 G
Video games have long been in thrall to Hollywood – an obsession with turning virtual playthings into "interactive movies" that has cursed countless releases. The dichotomy of the two mediums – that films are for watching, and games for playing – is too powerful to overcome: cinematic creations sacrifice their power in allowing interaction and games lose their focus when the narrative leaves the players' control. A dead end, leading, at best, to brave failure and, at worst, ignominious farce.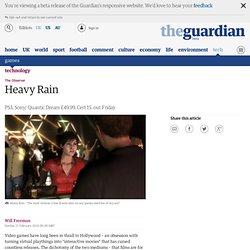 Heavy Rain | Game review | Technology | The Observer
Heavy Rain's David Cage Interview | PS3 | Eurogamer
By Oli Welsh Published Wednesday, 17 February 2010 Quantic Dream's eagerly awaited interactive drama Heavy Rain finally launches next week. We've written quite a few words about the PS3 exclusive already, including Tom's glowing 9/10 review, so we'll assume it needs no introduction other than to say that it's one of the most important, interesting and talked-about releases of 2010. The imminent launch brought about one last opportunity to talk to the game's writer and director David Cage earlier this week. We sat down with the passionate French auteur for an actual fireside chat - in a cosy room lined with leather-bound books in a discreetly upmarket central London hotel - and talked about the reaction to the game so far, his own feelings about it now that it's finished, and what his next challenge will be. Eurogamer: The first reviews of Heavy Rain have appeared now.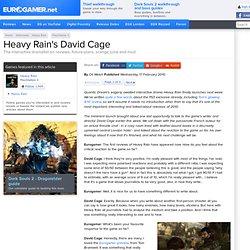 Un film interactif dont vous êtes le héros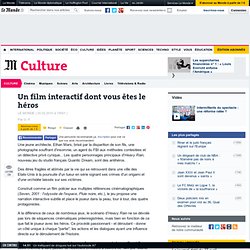 LE MONDE | | Par G. F. Une jeune architecte, Ethan Mars, brisé par la disparition de son fils, une photographe souffrant d'insomnie, un agent du FBI aux méthodes contestées et un détective privé cynique... Les quatre personnages principaux d'Heavy Rain, nouveau jeu du studio français Quantic Dream, sont des antihéros.
Heavy Rain, une pluie battante ? Non, un torrent ! Signé par le Français David Cage, ce jeu s'apprête à révolutionner l'univers « vidéoludique », qui flirte plus que jamais avec le cinéma. Depuis une dizaine d'années, l'homme s'était déjà fait remarquer par ses déclarations radicales et deux jeux – Nomad Soul et Fahrenheit – encensés par la critique à défaut d'avoir touché un large public. Avec Heavy Rain, Cage creuse son sillon, mais cette fois avec l'appui de Sony, l'un des géants du secteur, qui a financé le projet (18 millions d'euros) et orchestre sa sortie mondiale.
Plongé dans "Heavy Rain", tu ne sors pas indemne - Nouvelles tec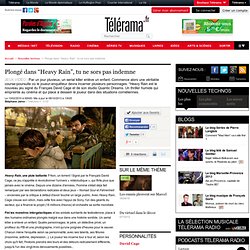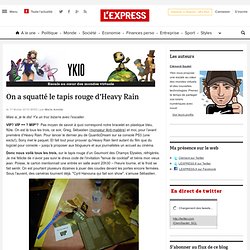 Mais si, je te dis! Y'a un truc bizarre avec l'escalier. VIP? VIP ++ ? MIP*? Pas moyen de savoir à quoi correspond notre bracelet en plastique bleu, flûte.
On a squatté le tapis rouge d'Heavy Rain - Ykio