Heavy Rain
Bandes annonces - Heavy Rain - Présentation japonaise
Heavy Rain Screenshots, Wallpapers and Pics
Heavy Rain - Official E3 Trailer [HD]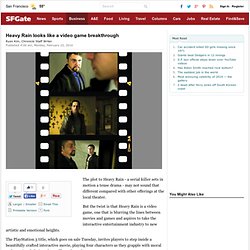 The plot to Heavy Rain - a serial killer sets in motion a tense drama - may not sound that different compared with other offerings at the local theater. But the twist is that Heavy Rain is a video game, one that is blurring the lines between movies and games and aspires to take the interactive entertainment industry to new artistic and emotional heights. The PlayStation 3 title, which goes on sale Tuesday, invites players to step inside a beautifully crafted interactive movie, playing four characters as they grapple with moral and emotional choices that spill out from the story.
Heavy Rain looks like a video game breakthrough
Heavy Rain for PS3 - Heavy Rain Playstation 3 - Heavy Rain PS3 G
Heavy Rain: "the most intense crime drama seen on any games machine of any era". Video games have long been in thrall to Hollywood – an obsession with turning virtual playthings into "interactive movies" that has cursed countless releases. The dichotomy of the two mediums – that films are for watching, and games for playing – is too powerful to overcome: cinematic creations sacrifice their power in allowing interaction and games lose their focus when the narrative leaves the players' control.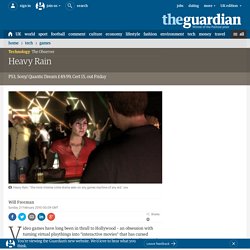 Heavy Rain | Game review | Technology | The Observer
Heavy Rain's David Cage Interview | PS3 | Eurogamer
By Oli Welsh Published Wednesday, 17 February 2010 Quantic Dream's eagerly awaited interactive drama Heavy Rain finally launches next week.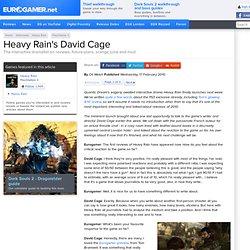 «Heavy Rain», immersion
Un film interactif dont vous êtes le héros
Heavy Rain, une pluie battante ?
Plongé dans "Heavy Rain", tu ne sors pas indemne - Nouvelles tec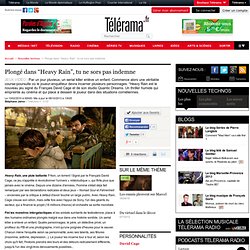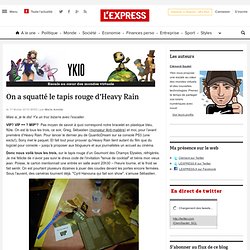 Mais si, je te dis! Y'a un truc bizarre avec l'escalier.
On a squatté le tapis rouge d'Heavy Rain - Ykio