LOLSPORT
ouBH9.jpg (Image JPEG, 960x720 pixels)
arsen.gif (Image GIF, 360x288 pixels)
PTcnd.gif (Image GIF, 250x190 pixels)
funny-sports-awkward-low-five.gif (Image GIF, 450x210 pixels)
YQe8H.gif (Image GIF, 320x180 pixels)
91Oz2.jpg (Image JPEG, 550x719 pixels) - Redimensionnée (93
hJLlp.jpg (Image JPEG, 496x914 pixels) - Redimensionnée (90
xlms2e.gif (Image GIF, 300x225 pixels)
peNAk.jpg (Image JPEG, 352x500 pixels)
Oe4Qx.jpg (Image JPEG, 468x447 pixels)
image-4447.jpg (Image JPEG, 450x575 pixels)
1o9Id.gif (Image GIF, 300x173 pixels)
natural-break.jpg (Image JPEG, 576x382 pixels)
UtJjY.jpg (Image JPEG, 460x712 pixels)
Canucks-Game-e1305793756417.jpg (Image JPEG, 560x420 pixels)
AGqTH.gif (Image GIF, 480x247 pixels)
Worst Misses of the 2010-11 Season!
lets-go-mavs.jpg (Image JPEG, 625x685 pixels)
Unfortunately timed photo
p6K4T.jpg (Image JPEG, 519x663 pixels)
ball_mom.jpg (Image JPEG, 400x326 pixels)
8323a90e46b9f6c9bb2525f.gif (Image GIF, 286x191 pixels)
busquets-real.gif (Image GIF, 280x210 pixels)
rnuyO.gif (Image GIF, 327x257 pixels)
379716e8e611648d2bbd5ece9cb801579141d741
UGyvd.jpg (Image JPEG, 500x311 pixels)
Amazing blunder by goalkeeper Bossut
Claypole 2 Victoriano Arenas 0 Primera D 2010-11 Los goles y la pelea
8V2UF
Arsenal-Birmingham 1-2 Szczesny & Koscielny fail
Ronaldo Vs Rémi Gaillard
The fastest red card ever! Preston Edwards (Ebbsfleet United) vs Farnborough
BIGGEST BOXING TRAGEDY EVER! usman ahmed uzzy entrance
Lineman Fail
Football Epic Fail
Show Off Touchdown Fail
Sem Nocão Esporte Clube - Essa nem Jesus fez
The Imgur Gallery
Convenons que les publicités sur internet sont parfois intrusives, souvent disgracieuses et rarement intéressantes.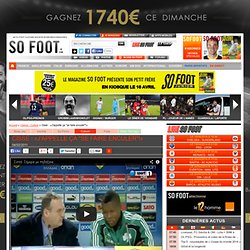 Cissé : « J'appelle ça "se faire enculer" ! » .
Swimmer's Unique Tactic to Win Race Hill taylor The Dolphin Man Denied Record
Linesman Pays Heavy Price after Whistle
Man Dunks Himself Through Hoop At Basketball Game
Larsen owns Bendtner
BMX Race Start Epic Fail
Racquet flies off handle - Australian Open 2011
Old Guy Performs Epic Dance
Sylvie van der Vaart houdt balletje hoog
Backwards Halfcourt Buzzer Beater
FUNNY STUFF★ Japanese marathon runner takes a wrong turn at finish
Poor looser