Xtext
Xtext. Syntax Coloring Out of the box, the editor supports syntax coloring based on the lexical structure and the semantic data of your files.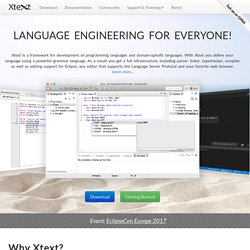 Users are free to customize the highlighting and configure their favorite styles. Xtext/Documentation/Migration. This document describes how Xtext projects of oAW 4.3 can be migrated to TMF Xtext.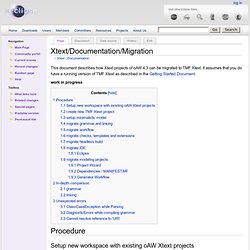 It assumes that you do have a running version of TMF Xtext as described in the Getting Started Document. work in progress Setup new workspace with existing oAW Xtext projects. Bei Grabthar's Hammer!* » Blog Archiv » How to Run Xtext (and other MWE2 Workflows) with Ant. Some days ago Sebastian showed How to Deploy Xtext to a Headless Plain-Java Envorinment.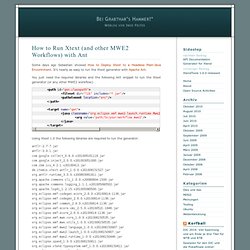 It's nearly as easy to run the Xtext generator with Apache Ant. You just need the required libraries and the following Ant snippet to run the Xtext generator (or any other MWE2 workflow): Using Xtext 1.0 the following libraries are required to run the generator: Setting up a RCP product for a Xtext DSL « Karsten's Blog. How can I produce a standalone application with the DSL editor I created?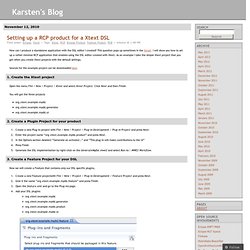 This question pops up sometimes in the forum. I will show you how to set up a rather minimal RCP application that enables using the DSL editor created with Xtext.
---