Resources
State of the Media: The Cross-Platform Report.
Location-based - Foursquare, etc
Entrepreneurial. CHANGE Multiplier. List of social networking websites. This is a list of major active social networking websites and excludes dating websites (see Comparison of online dating websites).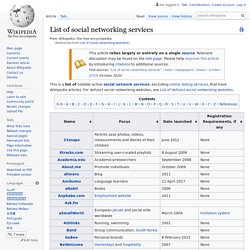 For defunct social networking websites, see List of defunct social networking websites. This list is not exhaustive, and is limited to notable, well-known sites. D. Defense. Forrester: If You Think Social Media Marketing is Worthless, You're Doing it Wrong. Has your company spent seemingly countless hours tweeting on Twitter, networking on Facebook and writing the company blog?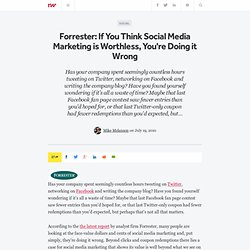 Have you found yourself wondering if it's all a waste of time? Maybe that last Facebook fan page contest saw fewer entries than you'd hoped for, or that last Twitter-only coupon had fewer redemptions than you'd expected, but perhaps that's not all that matters. According to the the latest report by analyst firm Forrester, many people are looking at the face-value dollars and cents of social media marketing and, put simply, they're doing it wrong. Beyond clicks and coupon redemptions there lies a case for social media marketing that shows its value is well beyond what we see on the surface. Analyst and report author Augie Ray writes in a blog post this morning that traditional measurements of success for return on investment in social media marketing lead to an incomplete picture.
EDU
Twitter. Facebook. Top 10 Video Sharing Sites Judged by Mashable Readers. If you've played along in our Lunchtime Poll series thus far, you'll know we throw out a typically open-ended poll question and let you lovely readers have at it in the comments.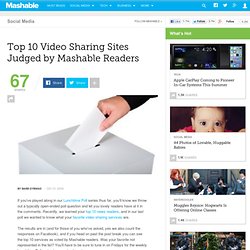 Recently, we learned your top 10 news readers, and in our last poll we wanted to know what your favorite video sharing services are. The results are in (and for those of you who've asked, yes we also count the responses on Facebook), and if you head on past the post break you can see the top 10 services as voted by Mashable readers. Ryan Stephens Marketing » Top 10 Gen Y Blogs: December 2009. Thanks to everyone who continues to make this list possible every other month.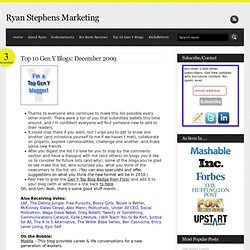 There were a ton of you that submitted ballots this time around, and I'm confident everyone will find someone new to add to their readers.It could stop there if you want, but I urge you to get to know one another (and introduce yourself to me if we haven't met), collaborate on projects, explore commonalities, challenge one another, and make some new friends.After you digest the list I'd love for you to stop by the comments section and have a dialogue with me (and others) on blogs you'd like us to consider for future lists (and why), some of the blogs you're glad to see make this list, who surprised you, what you think of the newcomers to the list, etc. (You can also speculate and offer suggestions on what you think the new format will be in 2010.)Feel free to grab the Gen Y Top Blog Badge from Flickr and add it to your blog (with or without a link back to here.
Oh, and Um, Yeah, there's some good stuff month… 10 Small Ways to Make the World a Better Place - Stepcase Lifeha. An important part of our growth and motivation as people lies in contributing to the greater good, being part of something greater than ourselves.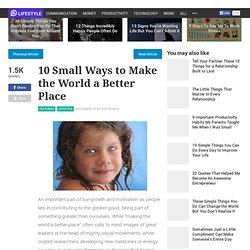 While "making the world a better place" often calls to mind images of great leaders at the head of mighty social movements, white-coated researchers developing new medicines or energy sources, or geniuses dreaming up theories that explain the world around us, there is plenty of room for less lofty acts that create small measures of happiness in the lives of those around us. Little gestures can create or strengthen our sense of community and of shared humanity, lightening our burdens for just a moment and giving us something to smile about. What Do Seniors Do Online? Visit Facebook and YouTube, of Course. We've known for a while that Facebook users are getting a lot older, but now new data released by Nielsen reveals that the number of seniors (65 and older) using the Web has increased by 6 million in the last five years.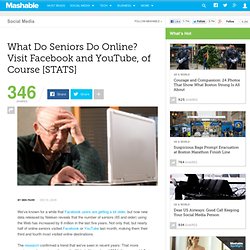 Not only that, but nearly half of online seniors visited Facebook or YouTube last month, making them their third and fourth most visited online destinations. The research confirmed a trend that we've seen in recent years: That more seniors are becoming active on the Web. In November of 2004, there were 11.3 million active seniors online. In November 2009, that number jumped by 55 percent to 17.5 million. In addition, they spend more time on the Web, totaling an average of 58 hours a month in front of the browser.While those numbers didn't surprise us, we were interested in data that Nielsen collected on their browsing habits. Social Business Design: Web 2.0 NYC. A collection of ten inspiring ideas. Thought I'd share some of the ideas that's been inspiring me the last couple of days.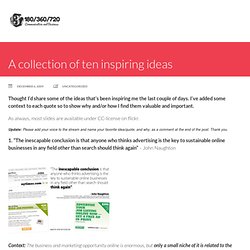 I've added some context to each quote so to show why and/or how I find them valuable and important. As always, most slides are available under CC-license on flickr. Advertising Age: Original Video: 18982295001. 25 Mind Blowing Social Media Infographics. Posted by Michael Duvall in Social Media on Jan 7th, 2010 | 93 responses Inforgraphics, "extensively [used] as tools by computer scientists, mathematicians, and statisticians" , have exploded onto the internet in the last few years.
What's so great about these aesthetic pieces of 'data reinforced gems', is their ability to paint a larger picture of what it is the creator is trying to express. With the complexity and explosive growth of social media over the last few years, it's not hard to see why so many have looked to express this information in a visually appealing manner – not to mention the benefits they provide when putting on a group presentation. Social Is the Top Priority for Marketers in 2010 [STATS] Money spent on social media-related advertising is already expected to grow significantly this year, and now we also know that the medium is considered the top priority in the digital space according to a survey of senior marketers.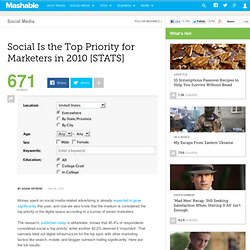 The research, published today in eMarketer, shows that 45.4% of respondents considered social a 'top priority' while another 42.2% deemed it 'important'. That narrowly beat out digital infrastructure for the top spot, with other marketing tactics like search, mobile, and blogger outreach trailing significantly. Here are the full results: Elsewhere, eMarketer reports on the metrics that marketers care most about, and the results support the notion that the page view is declining in relevance. World Map of Social Networks. December 2013: a new edition of my World Map of Social Networks, showing the most popular social networking sites by country, according to Alexa traffic data (caveat: it's hard to understand the impact of Google+ because it is part of Google domain traffic).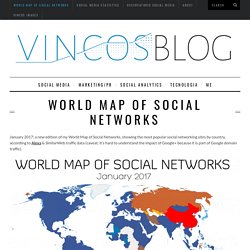 A few differences since last June but a lot since June 2009. Zuck's baby is the dominant social network in in 127 out of 137 countries analyzed: in the latest months Facebook lost Kyrgyzstan, but stole Syria from Maktoob. Facebook has now 1,189 billion monthly active users, but it is growing less rapidly than before (it has added just 34 million active users in 6 months). 351 million users in Asia, 276 million in Europe, 199 million in US & Canada, 362 million in remaining countries (according to Q3 2013 Earnings)
The New Agency Superstar: The Digital Technologist. AdWeek's recent Digital Special Report showcased a relatively new role being created and filled by several traditional ad agencies, to the end of capitalizing on technology to fuel great ideas. The Digital Technologist leads an agency's multidisciplinary team in creating compelling digital experiences for its clients. This critical interdisciplinary position may be led by someone with a programming, strategy and/or production background, making them well versed in both strategy and execution, and ultimately knowledgeable in how to lead and inspire a multi-disciplinary team to deliver against an executable, actionable idea.
The report illustrates how agencies are staffing and utilizing this role by identifying four senior agency talents who are redefining creativity in the age of digital. Led by Facebook, Twitter, Global Time Spent on Social Media Site. According to The Nielsen Company, global* consumers spent more than five and half hours on social networking sites like Facebook and Twitter in December 2009, an 82% increase from the same time last year when users were spending just over three hours on social networking sites. In addition, the overall traffic to social networking sites has grown over the last three years. Globally, social networks and blogs are the most popular online category when ranked by average time spent in December, followed by online games and instant messaging.
With 206.9 million unique visitors, Facebook was the No. 1 global social networking destination in December 2009 and 67% of global social media users visited the site during the month. Time on site for Facebook has also been on the rise, with global users spending nearly six hours per month on the site. Social Fans More Likely to Buy. Social media marketers looking for an indication that their efforts are helping the bottom line will be encouraged by findings from Chadwick Martin Bailey and iModerate that social friends and followers feel more inclined to purchase from the brands they are fans of.
More than one-half of Facebook fans said they are more likely to make a purchase for at least a few brands, and 67% of Twitter followers reported the same. The power of earned media gives a further boost to brands: 60% of respondents claimed their Facebook fandom increased the chance they would recommend a brand to a friend. Among Twitter followers, that proportion rose to nearly eight in 10.
---