Temas
Thème Windows 8 pour Google Chrome Télécharger. Best Google Chrome Themes. Google Chrome is a sweet new browser where the biggest downside was that you had to stick with the default blue theme.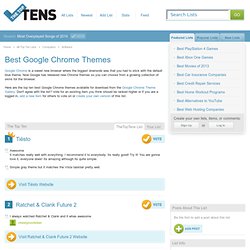 Now Google has released new Chrome themes so you can choose from a growing collection of skins for the browser. Here are the top ten best Google Chrome themes available for download from the Google Chrome Theme Gallery. Honeycomb Chrome Theme. Slinky.Me 2. Tema Windows 8 by TecnikGeek - Chrome Web Store. 20+ Best Chrome Themes | CrispyTech. MaxDark New Theme (AERO) - Galerie des extensions Google Chrome. Hardware Theme: Inspired by Roman Nurik - Google Chrome extension gallery.
Turquoise Flow Chrome Theme by ES3 - Google Chrome Themes. MaxDark Thème (AERO) Chrome Web Store. Chrometheme - Chrome Web Store. Android «thèmes Google Chrome. Register | Login Categories Cloud Theme.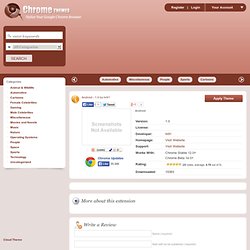 Iron Man Aero Theme - Chrome Web Store. Rayures Aero. ArchTheme. Chrome Themes. 5 Best Looking Super Heroes Themes For Google Chrome. Google Chrome Themes.
---