Enquêtes
Straw Poll. Infuselearning | Empowering The BYOD REVOLUTION. eQuizShow Online Templates. Free Twitter Polls, Twitter Surveys | TwitPolls.com.
Instant Feedback. KwikSurveys: Offical Free online survey & questionnaire tool. Générateur en ligne. Behavior Management Software - ClassDojo. PollHut - Create and share Polls. Mentimeter | Interact with your audience. Live Question Tool. RWW Account Creation. KwikSurveys: Offical Free online survey & questionnaire tool. ResponseWare. Turning Technologies develops leading assessment delivery and data collection solutions for learning environments.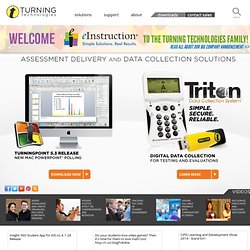 Our response technology not only creates interactive presentations, but is proven to enhance effective instruction, increase retention, engage participants, and immediately assess understanding. Turning has expanded its portfolio of products to include data collection systems that securely transfer digital data for various assessment, testing and certification programs. Founded in 2002, the company began with the development of response technology that was affordable, user-friendly and better documented so that users could easily grasp its benefits. Today, an estimated six million ResponseCard keypads have been delivered to K-12 schools, universities and businesses worldwide. IdeaScale Suggestion Box. SurveyMonkey : logiciel gratuit de sondage en ligne et d'enquête par questionnaire. Text Message (SMS) Polls and Voting, Audience Response System.
Kiwoos.com | Outil de sondage en ligne. Free Web Polls for your Blog, MySpace or Facebook page. Opinion Polls and Affordable Market Research. Web Polls was discontinued on December 21, 2012.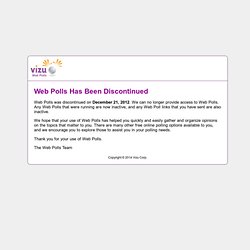 We can no longer provide access to Web Polls. Any Web Polls that were running are now inactive, and any Web Poll links that you have sent are also inactive. We hope that your use of Web Polls has helped you quickly and easily gather and organize opinions on the topics that matter to you. There are many other free online polling options available to you, and we encourage you to explore those to assist you in your polling needs.
---