Grateful dead music
DEAD images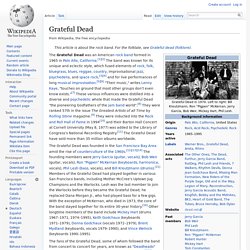 The Grateful Dead was an American rock band formed in 1965 in Palo Alto, California.[1][2] The band was known for its unique and eclectic style, which fused elements of rock, folk, bluegrass, blues, reggae, country, improvisational jazz, psychedelia, and space rock,[3][4] and for live performances of long musical improvisation.[5][6] "Their music," writes Lenny Kaye, "touches on ground that most other groups don't even know exists."[7] These various influences were distilled into a diverse and psychedelic whole that made the Grateful Dead "the pioneering Godfathers of the jam band world".[8] They were ranked 57th in the issue The Greatest Artists of all Time by Rolling Stone magazine.[9] They were inducted into the Rock and Roll Hall of Fame in 1994[10] and their Barton Hall Concert at Cornell University (May 8, 1977) was added to the Library of Congress's National Recording Registry.[11] The Grateful Dead has sold more than 35 million albums worldwide.
Jam of The Week by David Lemieux April 18, 2014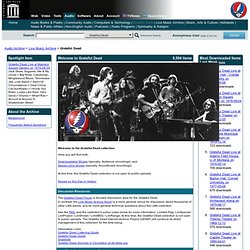 Limited Flag: LimSpecial / LimProject / LimShows / LimSBDs / LimRange 11/2005 brought a major change to GD material here. See:http://www.archive.org/about/faqs.php#215 Additional note on Limitations for this site: Specific items (show dates and/or recording versions) may become unavailable for downloading or streaming here by rights-holder request.