Digital Textbooks in BYOT
Hear that hissing sound? It's the textbook bubble deflating. I've written frequently about the unsustainable "college textbook bubble," which continues to inflate at rates that make the U.S. housing bubble seem relatively inconsequential by comparison, see chart above.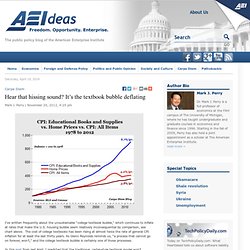 The cost of college textbooks has been rising at almost twice the rate of general CPI inflation for at least the last thirty years. As Glenn Reynolds reminds us, "a process that cannot go on forever, won't," and the college textbook bubble is certainly one of those processes. In this post from last April, I predicted that the traditional, cartel-style textbook model won't survive, and we might already be hearing the giant hissing sound of the "college textbook bubble" starting to deflate due to lower cost competition from alternative textbook providers like Flat World Knowledge.
HTML5 Document Embedding | Crocodoc. The Counter Cultural -- and Counter-Intuitive Response -- to Gadget Overload (A Rant) "Now think of yourself as a battery.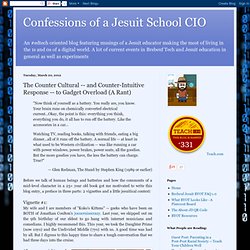 You really are, you know. Your brain runs on chemically converted electrical current...Okay, the point is this: everything you think, everything you do, it all has to run off the battery. Like the accessories in a car... Watching TV, reading books, talking with friends, eating a big dinner...all of it runs off the battery. 'Banning Is Not the Answer' to Mobile and Social Tools in Schools. Mobile Computing | News 'Banning Is Not the Answer' to Mobile and Social Tools in Schools Before choosing to restrict the use of social and mobile tools in schools, policymakers and education leaders have to consider the negative impact such restrictions will have on learning.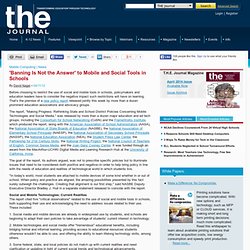 That's the premise of a new policy report released jointly this week by more than a dozen prominent education associations and advocacy groups. Infographic - What do High School Students want from mobile tech. ASCD (Association for Curriculum and Development) has taken statistics from a variety of sources and coalates it into a nice infographic about students, mobile learning, learning methods and what high school students want in mobile learning.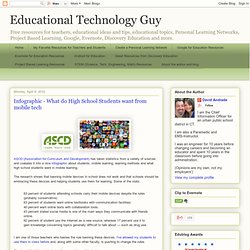 The research shows that banning mobile devices in school does not work and that schools should be embracing these devices and helping students use them for learning. Some of the stats: 63 percent of students attending schools carry their mobile devices despite the rules (probably conservative)63 percent of students want online textbooks with communication facilities;40 percent want online texts with collaboration tools.43 percent stated social media is one of the main ways they communicate with friends online.62 percent of student use the Internet as a new source; whereas 17 percent use it to gain knowledge concerning topics generally difficult to talk about — such as drug use. 11 Places to Find Free eBooks for Yourself and Your Students. The Internet is full of ebooks.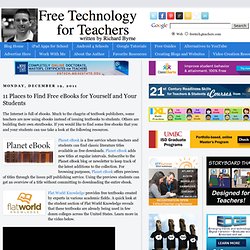 Much to the chagrin of textbook publishers, some teachers are now using ebooks instead of issuing textbooks to students. Others are building their own etextbooks. Welcome | Flat World Knowledge. 7 Myths About BYOD Debunked. BYOD | Viewpoint 7 Myths About BYOD Debunked Lisa Nielsen, the author of "Teaching Generation Text: Using Cell Phones to Enhance Learning" and "The Innovative Educator" blog, believes it is time to shatter a few myths about students bringing their own devices (BYOD) to school.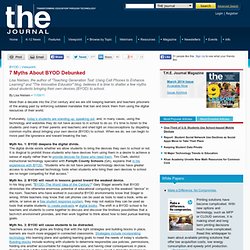 By Lisa Nielsen11/09/11 More than a decade into the 21st century and we are still keeping learners and teachers prisoners of the analog past by enforcing outdated mandates that ban and block them from using the digital resources of their world. 7 Myths About BYOD Debunked. BYOD | Viewpoint Page 2 of 2 7 Myths About BYOD Debunked Myth No. 4: Teachers need to become experts in all the technology students own.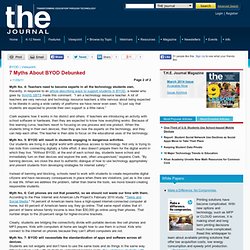 Recently, in response to an article describing ways to support students in BYOD, a reader who goes by WAHS SBTS made this comment: "I am a technology resource teacher. E-Textbooks: 4 Keys to Going All-Digital. Learning Tools | Feature E-Textbooks: 4 Keys to Going All-Digital By John K.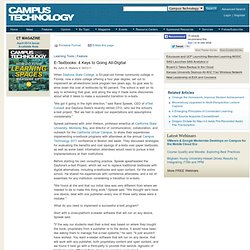 Back to School: Rethinking the Textbook. Image by anselm23 via Flickr Over the past few years I have been meeting with a steady stream of entrepreneurs who are determined to reshape the textbook business.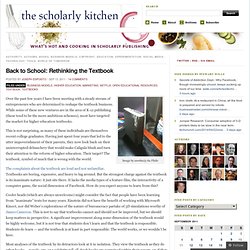 While some of these new ventures are in the area of K-12 publishing (these tend to be the more ambitious schemes), most have targeted the market for higher education textbooks. This is not surprising, as many of these individuals are themselves recent college graduates. Having just spent four years that led to the utter impoverishment of their parents, they now look back on their uninterrupted debauchery that would make Caligula blush and turn their attention to the reform of higher education. Open educational resources. Open Educational Resources (OER) are freely accessible, openly licensed documents and media that are useful for teaching, learning, educational, assessment and research purposes.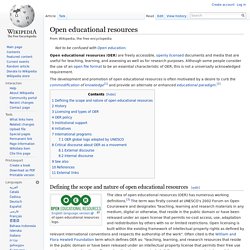 Although some people consider the use of an open format to be an essential characteristic of OER, this is not a universally acknowledged requirement. The development and promotion of open educational resources is often motivated by a desire to curb the commodification of knowledge[1] and provide an alternate or enhanced educational paradigm.[2] Defining the Scope and Nature of Open Educational Resources[edit] BYOT (Bring Your Own Technology) 12/29/2009 By: by Ellen Ullmann Each spring, Walled Lake (MI) Consolidated School District kicks off its ten-year-old Anytime Anywhere Learning (AAL) Laptop Program with an orientation meeting for parents of fifth graders. At the meeting, parents learn about the 1:1 laptop program, in which students use their computers to learn about everything from databases to digital storytelling to video creation.
---