Videos Set to Music
Sorry I'm Late. A fun, simple story of a man's adventure getting home all animated in life-size, stop-motion with real people and bizarre objects.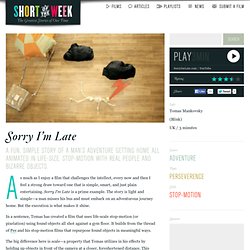 As much as I enjoy a film that challenges the intellect, every now and then I feel a strong draw toward one that is simple, smart, and just plain entertaining. Sorry I'm Late is a prime example. AT-AT day afternoon. Lost in a moment. Ekranoplan KM - a Film & TV video. ART 2 RUE sous la pluie... - une vidéo Art et Création. Pink terror. Cupcake cannon is as amazing as it sounds – New Tech Gadgets & E. Fun with Gravity. Neil Fraser wondered if a lava lamp would still work in the higher gravity environment of Jupiter.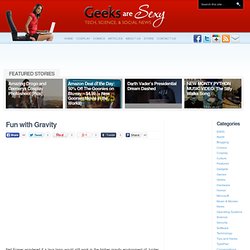 How such a question ever occurs to anyone is a matter of wonder in itself, but Fraser went ahead and built a ten-foot centrifuge in his living room to conduct an experiment to answer the question. The centrifuge is a genuinely terrifying device. 'The Mysterious Lady' Pixies Piano Mashup | Gimundo | Good News.
---