Geocaching
The Official Global GPS Cache Hunt Site
GEOCACHING • Foren-Übersicht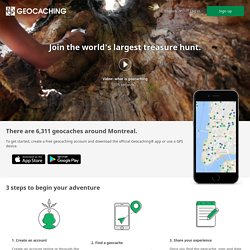 Skip to Navigation Skip to Content Geocaching is the real-world treasure hunt that's happening right now, all around you. There are 2,296,092 active geocaches and over 6 million geocachers worldwide. Learn more about geocaching and how you can join the adventure. How to Go Geocaching: Search for Nearby Geocaches
BesserCacher
Original Catsitting Midi Quadbag Schultertasche mit Kat Original Catsitting Quadbag Midi Schultertasche mit Katzenlogo schwarz Farbe schwarz, 200 x 200 x 60 mm - Schultertasche mit Fro... Original Geocaching bandee: Schultertasche braun >>>jet bandee : TM Schultertasche mit original geocaching. com Logo Die praktische Schultertasche für unterwegs. Ausweis, Handy, Geld, ... Geocaching: bestes Praxiswissen vom Profi inkl. detaill Wie man mit GPS-Gerät oder Smartphone in der freien Natur und in der Stadt auf Schatzsuche gehen kann und wie man dabei Denksport...
Geocachingshop Deutschland - Geocachingshop24 - Travelbug - GeoCoin - GPS - Premium Member - Koordinatenshirts - Sticker - GeoCaches
Wherigo is a toolset for creating and playing GPS-enabled adventures in the real world. Use GPS technology to guide you to physical locations and interact with virtual objects and characters. Learn more...