Health
Une drogue dure comme remède ultime à la dépression ?
Il n'existe pas de moyen de traiter rapidement la dépression.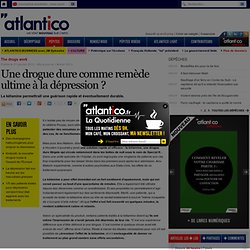 Jeudi 26 avril 2012 par jesrad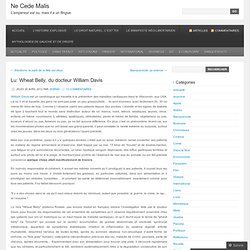 Lu: Wheat Belly, du docteur William Davis | Ne Cede Malis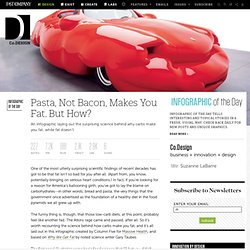 One of the most utterly surprising scientific findings of recent decades has got to be that fat isn't so bad for you after all.
Pasta, Not Bacon, Makes You Fat. But How?
Every other week, new research claims one food is better than another, or that some ingredient yields incredible new health benefits. Couple that with a few old wives' tales passed down from your parents, and each time you fire up your stove or sit down to eat a healthy meal, it can be difficult separating food fact from fiction.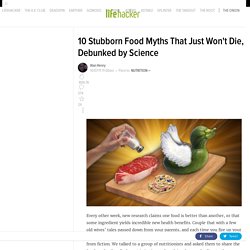 Josh Le, University Of Alberta Student, Wears Same Pair Of Jeans For 15 Months
Good news: Turns out that wearing the same pair of jeans every day isn't hazardous to your health. University of Alberta student Josh Le wore one pair of tight, raw denim jeans for 15 months starting in Sept. 2009. At the end of his trial, he and his professor, Rachel McQueen, found that the most bacteria accumulated in the crotch area of the jeans -- 8,500 to 10,000 bacterial units per square centimeter -- but overall, the pants were still safe to wear.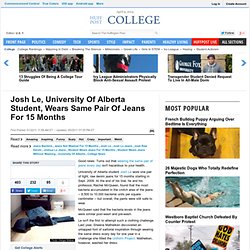 We've long known that exercise is good for your brain and stimulates brain activity. A recent study shows that aerobic exercise—in particular, walking—can actually increase the size of the part of the brain responsible for memory. The study got 60 sedentary adults aged 60 to 80 to start a brisk walking program of 40 minutes a day three times a week.
Walking May Increase Brain Size and Boost Memory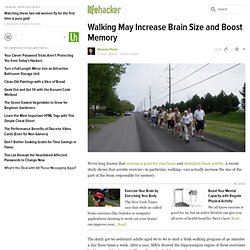 French oil conglomerate Total will buy Canadian oil sands developer UTS Energy for $1.42 billion. At stake: undeveloped hydrocarbon resources in the north. French oil conglomerate Total SA said on Wednesday that it will buy Canadian oil sands developer UTS Energy Corp. for $1.42 billion.
Potential cancer treatment method uses body's own know-how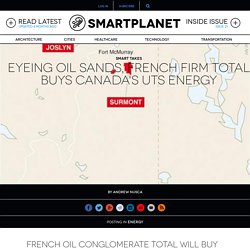 More employers are providing adjustable stand/sit workstations and treadmill desks, above, which run at low walking speeds.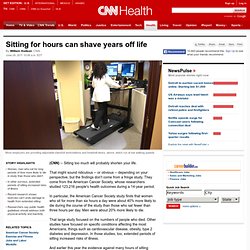 Sitting for hours can shave years off life
The general rule of thumb for what counts as a full night's sleep has been eight hours for as long as anyone can remember, but it's not an arbitrary number at all. Two studies, one at the University of Pennsylvania and the other at the Walter Reed Research Institute, tested dozens of sleepers and found that sleeping even seven hours a night will slowly add up to a costly sleep debt.
How Many Hours of Sleep Do You Really Need? - Lifehacker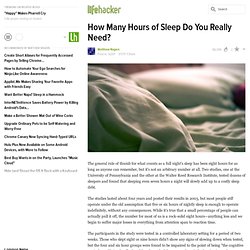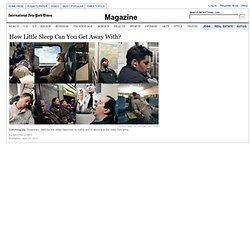 Antonio Bolfo for The New York Times
How Little Sleep Can You Get Away With?
Stem cell setback as mice reject own tissue - health - 13 May 2011
Editorial: "Keep stem cell options open" Hopes that people might one day be given transplants made from their own cells have been dashed by experiments trying out the same procedure in mice. The mice rejected transplants of stem cells even though they had been generated from skin cells genetically identical to their own.
An Iowa man completed his Lent-long beer fast on Sunday, marking the occasion with a bacon smoothie. During the 46-day feat, J.
The Budweiser diet: How long can you survive on beer alone? - By Jeremy Singer-Vine
Need a mental pick-me-up? Ecosalon's list of the twenty best foods for your brain can fuel your mind with quality fats, antioxidants, and fiber. We've previously featured eight foods you should eat every day for overall health — spinach, yogurt, tomatoes, carrots, blueberries, black beans, walnuts, and oats.
Eat These Foods to Boost Your Brain Power and Energy - Lifehacker