Onderwijs
Prezzip - PreziU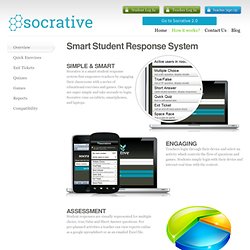 Socrative is a smart student response system that empowers teachers by engaging their classrooms with a series of educational exercises and games. Our apps are super simple and take seconds to login. Socrative runs on tablets, smartphones, and laptops. Teachers login through their device and select an activity which controls the flow of questions and games. Students simply login with their device and interact real time with the content. Student responses are visually represented for multiple choice, true/false and Short Answer questions.
How It Works
Gisteren gingen de bloemen uit Nederland weer naar Rome.
Onderwijsgrafiek #55 - Mobiliteit in het onderwijs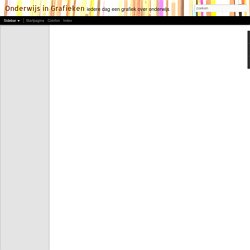 You Can't Afford Apple's Education Revolution
ict-in-onderwijs nieuws
Apps in het Onderwijs – Socrative Teacher for Android « Apps in het Onderwijs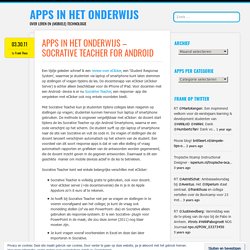 Een tijdje geleden schreef ik een review over eClicker , een 'Student Response System', waarmee je studenten via laptop of smartphone kunt laten stemmen op stellingen of vragen tijdens de les. De docentenapp van eClicker (eClicker Server) is echter alleen beschikbaar voor de iPhone of iPad. Voor docenten met een Android- device is er nu Socrative Teacher , een response- app die vergeleken met eClicker ook nog enkele voordelen biedt. Met Socrative Teacher kun je studenten tijdens colleges laten reageren op stellingen op vragen; studenten kunnen hiervoor hun laptop of smartphone gebruiken. De methode is ongeveer vergelijkbaar met eClicker: de docent start tijdens de les Socrative Teacher op zijn Android Smartphone, waarna er een code verschijnt op het scherm.
Het lectoraat ICT en Onderwijsinnovatie was van medio 2007 tot eind 2011 een onderzoeksgroep van de Hogeschool Windesheim te Zwolle. Het lectoraat stond onder leiding van lector Dr. S.P. (Peter) van 't Riet en zocht antwoorden op de vraag hoe ICT-toepassingen kunnen bijdragen aan de vernieuwing van het onderwijs, speciaal de organisatie van het onderwijs. Het lectoraat deed, zelfstandig of samen met partners, onderzoek naar diverse zaken zoals: Het ICT-gebruik van docenten, Het gebruik van Virtual Reality in het onderwijs, ICT voor competentieleren, Standaardisatie van onderwijsinformatie, Onderwijslogistiek, ICT en ketenintegratie in het onderwijs, IT-governance in het hoger onderwijs.
Home - Lectoraat ICT en Onderwijsinnovatie
ICT-Architectuur Twynstra Gudde | 5
Architectuurboek Twijnstra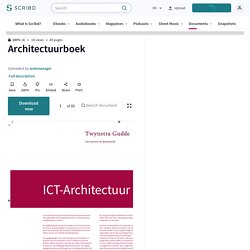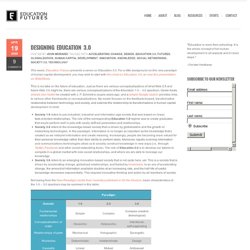 This week, Education Futures presents a series on Education 3.0. For a little background on this new paradigm of human capital development, you may wish to start with this chart on Education 3.0 , or view this presentation on SlideShare . This is my take on the future of education.
Education Futures - Designing Education 3.0
ACOT 2 has identified six design principles for the 21st century high school: Understanding of 21st Century Skills and Outcomes Establishes as a baseline that educators, students and parents must be well versed in the 21st century skills that students need to acquire to be successful.
ACOT2 - About ACOT2
Nieuwsbrieven - Lectoraat ICT en Onderwijsinnovatie