PLE
Get flash to fully experience Pearltrees
Horla Varlan This week, the OCW Consortium is holding its annual meeting, celebrating 10 years of OpenCourseWare . The movement to make university-level content freely and openly available online began a decade ago, when the faculty at MIT agreed to put the materials from all 2,000 of the university's courses on the Web. With that gesture, MIT OpenCourseWare helped launch an important educational movement, one that MIT President Susan Hockfield described in her opening remarks at yesterday's meeting as both the child of technology and of a far more ancient academic tradition: "the tradition of the global intellectual commons." We have looked here before at how OCW has shaped education in the last ten years, but in many ways much of the content that has been posted online remains very much "Web 1.0."
Analysis of the SECTIONS Model in the 21st Century MA Learning and Technology, LRNT 503 – Royal Roads University – Unit 3 Group Project- Brian Bailey, Susan Fisher, Rose Murray & Ingrid Wagemans 10/17/2010 – Evaluated by Elizabeth Wellburn, Royal Roads University – Graded A+ In their book, Effective Teaching with Technology in Higher Education, Bates and Poole (2003) described a model they designed which could be used for selecting and using technology for distance education programs. The model they designed was called SECTIONS which stands for Students, Ease of use and reliability, Costs, Teaching, Interactivity, Organizational issues, Novelty, and Speed. What follows is an analysis of these elements as we move into the 21st century and how to reframe the questions Bates and Poole originally asked, in light of Web 2.0 learning environments. The first element of the Bates and Poole's SECTIONS model considers students.
Try Audible Now and Get A FREE Audio Book! Free textbooks (aka open textbooks) written by knowledgable scholars are a relatively new phenomenon. Below, find a meta list of 150 Free Textbooks, and check back often for new additions. Also see our online collection of Free Courses . Art History Biology
Google has finally rolled out Google+ which is not yet another service like Google Wave and Buzz, but is an amazing and power packed social networking website which is deemed to rise very high and compete with today's biggies 'Facebook and Twitter'. I tried out Google+ after getting an invite and found it really interesting, may it be its simple and cool design or the variety of features it offers. One has to accept that Google has done some really good and hard work in bringing out Google+.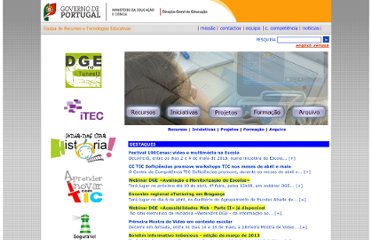 Festival 100Cenas: vídeo e multimédia na Escola Decorrerá, entre os dias 2 e 4 de maio de 2013, numa iniciativa da Escola... [ + ] CC TIC Softciências promove workshops TIC nos meses de abril e maio O Centro de Competência TIC Softciências promove, durante os meses de abril e... [ + ] Webinar DGE «Avaliação e Monitorização de Escolas» Terá lugar no próximo dia 10 de abril, 4ª feira, pelas 15h00, um webinar DGE... [ + ] Encontro regional eTwinning em Bragança Terá lugar no dia 6 de abril, no Auditório do Agrupamento de Escolas Abade de... [ + ] Webinar DGE «Acessibilidades Web - Parte II» já disponível No sítio eletrónico da iniciativa «Webin@rs DGE - da informação ao... [ + ]
July 21,2011 by: Susan Edmondson Matthew King from Sugar-Salem High School has received compliments from Brent Hill. Matthew king not only showed complete understanding but also had to courage to stand up to challenge the misinformation which surrounded the Education Reform Bill in the state.