Outils iLearning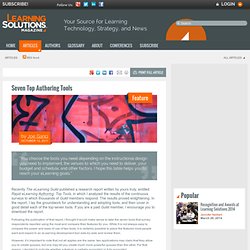 "You choose the tools you need depending on the instructional design you need to implement, the venues to which you need to deliver, your budget and schedule, and other factors. I hope this table helps you to reach your eLearning goals." Recently The eLearning Guild published a research report written by yours truly, entitled Rapid eLearning Authoring: Top Tools, in which I analyzed the results of the continuous surveys to which thousands of Guild members respond. The results proved enlightening. In the report, I lay the groundwork for understanding and adopting tools, and then cover in good detail each of the top-seven tools. If you are a paid Guild member, I encourage you to download the report.
Seven Top Authoring Tools by Joe Ganci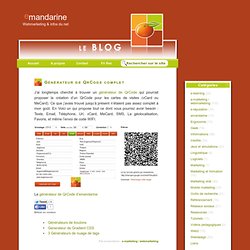 J'ai longtemps cherché à trouver un générateur de QrCode qui pourrait proposer la création d'un QrCode pour les cartes de visites (vCard ou MeCard). Ce que j'avais trouvé jusqu'à présent n'étaient pas assez complet à mon goût. En Voici un qui propose tout ce dont vous pourrez avoir besoin : Texte, Email, Téléphone, Url, vCard, MeCard, SMS, La géolocalisation, Favoris, et même l'envoi de code WIFI. Le générateur de QrCode d'emandarine Billets en relation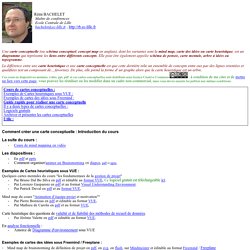 Une carte conceptuelle (ou schéma conceptuel, concept map en anglais), dont les variantes sont la mind map, carte des idées ou carte heuristique, est un diagramme qui représente les liens entre différents concepts. Elle peut être également appelée schéma de pensée, carte mentale, arbre à idées ou topogramme. La différence entre une carte heuristique et une carte conceptuelle est que cette dernière relie un ensemble de concepts entre eux par des lignes orientées et qualifiées (est un composant de.., favorise).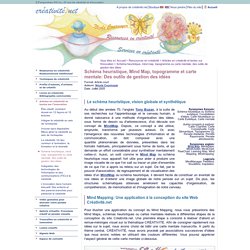 Format: Article court Auteure: Nicole Cournoyer Date: Juillet 2005 Le schéma heuristique, vision globale et synthétique Synonymes français: Schéma heuristique ou Schéma euristique, Constellation d'idées, Carte Heuristique ou Carte Euristique, Carte mentale Autres concepts à explorer: Carte Cognitive, Carte Conceptuelle, Carte Sémantique, Topogramme [1], Pensée irradiante, Pensée Rayonnante, Pensée arborescente. Synonymes anglais: Mind Map, Mindscape, MindCluster, MindChart, FlowChart, Learning Map, Mind Mapping, Mindmapping. Logiciels MindManager, FreeMind, NovaMind, Inspiration.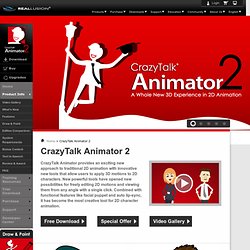 CrazyTalk Animator provides an exciting new approach to traditional 2D animation with innovative new tools that allow users to apply 3D motions to 2D characters. New powerful tools have opened new possibilities for freely editing 2D motions and viewing them from any angle with a single click. Combined with functional features like facial puppet and auto lip-sync, it has become the most creative tool for 2D character animation. Movie & Video Creators The video creator's arsenal of digital actor creation tools with professional real-time automatic animation. Artists & Illustrators
CrazyTalk Animator - 2D Character Animation and Cartoon Software
Cantoche : The Living Actor™ Avatars humanize interfaces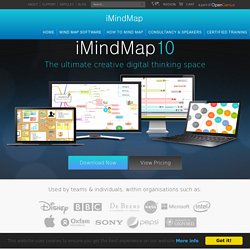 iMindMap Software Using an intuitive workspace, an unrestrictive structure and lots of visual stimulation, iMindMap is the perfect Mind Mapping tool for all thinking tasks. Enhance your productivity, unleash your creativity and improve your quality of work by joining the millions already Mind Mapping. Your Mind Mapping software has transformed our business & become a part of our cultural DNA at WWP.Wheaton Wealth Partners iMindMap is the most creative piece of technology I've ever used.Graham Cullen, HeadTeacher, Porchester School Platforms
With the book creator you can create a book containing wiki pages of your choice. You can export the book in different formats (for example PDF or ODF) or order a printed copy. See Help:Books for more information. After the book creator has been enabled, the box as seen below is shown above each wiki page.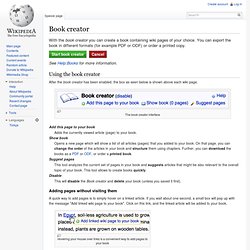 ARSights