Outils iLearning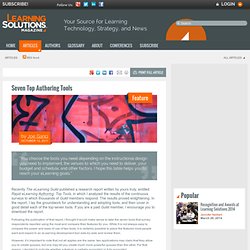 "You choose the tools you need depending on the instructional design you need to implement, the venues to which you need to deliver, your budget and schedule, and other factors. I hope this table helps you to reach your eLearning goals."
Seven Top Authoring Tools by Joe Ganci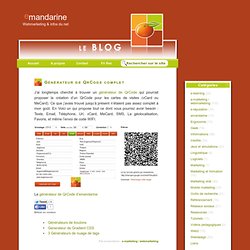 J'ai longtemps cherché à trouver un générateur de QrCode qui pourrait proposer la création d'un QrCode pour les cartes de visites (vCard ou MeCard).
Cartes conceptuelles - Applications pédagogiques des outils de schématisation
Les cartes conceptuelles Cette section présente ce que j'ai réussis à documenter jusqu'à ce jour sur le sujet. Vous y retrouverez du matériel venant d'une présentation sur les applications pédagogiques des cartes conceptuelles, ainsi que ma humble veille sur le sujet (pour laquelle je consacre, hélas, pas suffisamment de temps).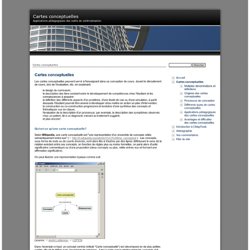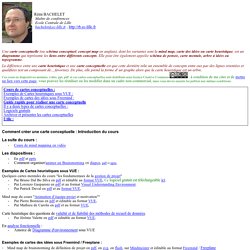 Une carte conceptuelle (ou s chéma conceptuel , concept map en anglais), dont les variantes sont la mind map , carte des idées ou carte heuristique , est un diagramme qui représente les liens entre différents concepts . Elle peut être également appelée schéma de pensée, carte mentale, arbre à idées ou topogramme . La différence entre une carte heuristique et une carte conceptuelle est que cette dernière relie un ensemble de concepts entre eux par des lignes orientées et qualifiées (est un composant de.., favorise).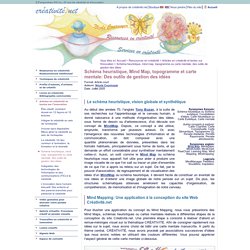 Format: Article court Auteure: Nicole Cournoyer Date: Juillet 2005 Le schéma heuristique, vision globale et synthétique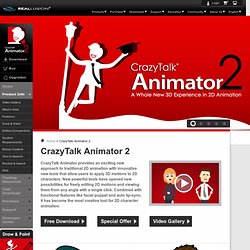 CrazyTalk Animator CrazyTalk Animator, the next level of 2D animation.
CrazyTalk Animator - 2D Character Animation and Cartoon Software
Cantoche : The Living Actor™ Avatars humanize interfaces
Products - iMindMap
ARSights