Mapes d'aprenentatge
L'ÚS DE MAPES D'APRENENTATGE EN UN CONTEXT D'EDUCACIÓ SUPERIOR Jan 8
Reinventando el Aprendizaje por Proyectos Guía de Campo para trabajar proyectos del mundo real en la era digital Suzie Boss – Jane Krauss Este libro ofrece a los educadores una guía de apoyo para maximizar los beneficios educativos del Aprendizaje por Proyectos (ApP) en los ambientes enriquecidos con Tecnologías de la Información y la Comunicación (TIC) e indica la manera de utilizar efectivamente herramientas de la Web 2.0, para lograrlo. Eduteka agradece la deferencia especial de las autoras por permitirle traducir al español la última actualización del Apéndice A del libro. En éste se describen cada una de las funciones esenciales para apoyar el aprendizaje que ofrecen las herramientas digitales, Internet y la Web 2.0, acompañadas de un listado de las herramientas de este tipo que apoyan cada función. Por la proveniencia del libro, los recursos están en inglés; sin embargo, Eduteka ha hecho un esfuerzo especial para ofrecer recursos equivalentes y de calidad, en español.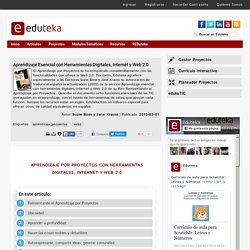 Aprendizaje Esencial con Herramientas Digitales, Internet y Web 2.0
Fes clic aquí
1. Idea inicial
Adell: Entorns personals d'aprenentatge
2. Replantejament
Google anuncia algunos cambios en Reader, uno de esos productos que parece tener como "sin pena ni gloria". Reader es, sin duda, la aplicación en la que paso más tiempo de todas las que utilizo, y a la que más partido le extraigo. Para mí es la herramienta que más ha sublimado el concepto de lector de feeds y que mejor balancea prestaciones con complejidad: en Reader leo la gran mayoría de las noticias que consumo, tanto en los feeds a los que estoy suscrito como en los elementos compartidos por las personas que sigo. En Reader selecciono y recopilo aquellas cosas que me han interesado o que me llaman la atención para plantearme escribir sobre ello.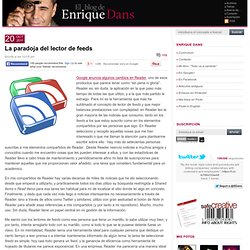 Dans: Lectors de feeds
3. Context
Blanquerna - Universitat Ramon Llull
4. Anàlisi
5. Aspectes clau
6. Objectius
7. Disseny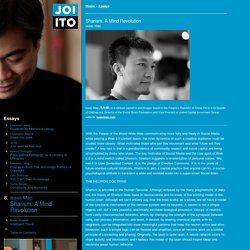 With the People of the World Wide Web communicating more fully and freely in Social Media while rallying a Web 2.0 content boom, the inner dynamics of such a creative explosion must be studied more closely. What motivates those who join this movement and what future will they create? A key fact is that a superabundance of community respect and social capital are being accumulated by those who share.
8. Desenvolupament
Guia Pearltrees
9. Implementació
10. Avaluació
11. Conclusions
Materials
FPCEE Blanquerna - URL