GIGAPIXEL
Paris 26 Gigapixels - Visite virtuelle interactive des plus beaux monuments de Paris. Gigapixel-Dresden.de. The picture was made with the Canon 5D mark II and a 400mm-lens.
It consists of 1.665 full format pictures with 21.4 megapixel, which was recorded by a photo-robot in 172 minutes. The converting of 102 GB raw data by a computer with a main memory cache of 48 GB and 16 processors took 94 hours. Dubai 45 gigapixels. Want to add this gigapan to your favorites?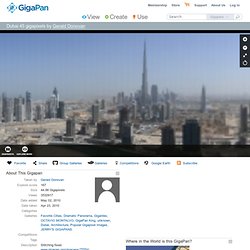 Or now. now to add this Gigapan to a group gallery. now to add this Gigapan to a gallery. About This Gigapan Toggle. EL CAPITAN. 70 Billion Pixels Budapest - The largest photo on Earth - created by 360world.eu. GigaPixel – images très haute résolution. Downtown Vancouver 10 Gigapixels.
---