Classroom Organization & Management Ideas
Last week I hung my very first solo gallery show up at UNT on the Square in Denton, Texas. All the pieces for the show were done in the five months after my son Owen was born—I made probably 60 or 70 poems, threw out at least half, and kept 30. Most of the time I post poems to the blog or Instagram right after I make them. This is how I've always worked, and the whole reason the project exists—if it weren't for online feedback and response, I would've stopped making these things a long time ago. But for this show, I thought I'd experiment and work the way I imagine most artists working, toiling in the solitude and secrecy of my office, keeping the work to myself, editing at the very end, and doing the "big reveal" of the work at the show.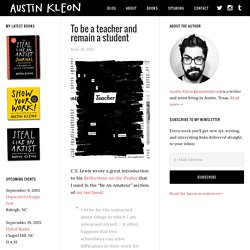 amazon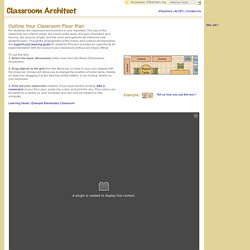 Outline Your Classroom Floor Plan For students, the classroom environment is very important. The size of the classroom and interior areas, the colors of the walls, the type of furniture and flooring, the amount of light, and the room arrangement all influence how students learn. Thoughtful arrangement of the indoor and outdoor environments will support your learning goals for students.This tool provides an opportunity for experimentation with the layout of your classroom without any heavy lifting! To use this tool: 1.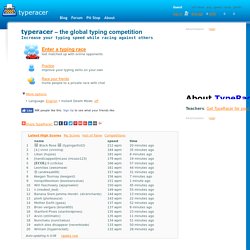 TypeRacer is loading... It appears that TypeRacer is taking too long to load on your computer. You are seeing this message for one of the following reasons: Your web browser is not configured properly for this website This website is temporarily unavailabe Your internet connection is currently slow or unreliable Your computer or network contains software blocking this site If refreshing the page doesn't help, the easiest solution is to try a different web browser.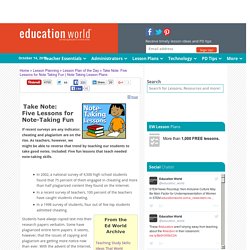 If recent surveys are any indicator, cheating and plagiarism are on the rise. As teachers, however, we might be able to reverse that trend by teaching our students to take good notes. Included: Five fun lessons that teach needed note-taking skills.
Take Note: Five Lessons for Note Taking Fun
Since 1992, Really Good Stuff® has created products that help teachers make a difference in students' lives. If you are a teacher, or you buy teacher supplies, you may know us from our popular printed catalog. Our classroom supplies are exclusively sold in our catalogs and on our web site. Many of our quality products start with ideas shared from classrooms around the country. Many of our products are created by teachers, for teachers.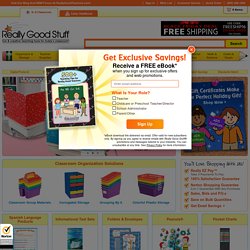 ALTEC, the umbrella organization for the 4teacher tools, manages the Technology Rich Classroom (TRC),Title II-D initiative in Kansas. Take a look at the powerful 21st Century learning taking place in these classrooms! 4Teachers.org works to help you integrate technology into your classroom by offering online tools and resources. This site helps teachers locate and create ready-to-use Web lessons, quizzes, rubrics and classroom calendars. There are also tools for student use. Discover valuable professional development resources addressing issues such as equity, ELL, technology planning, and at-risk or special-needs students.