PROGRAMACION
How Do I: Use the DataRepeater Control?
The Service: We provide an online service that includes hosted database servers and optionally hosted applications. Access and use of the Site, Service and any content made available at the Site or through the Service or that you otherwise obtain in connection with the Site or the Service (" Content "), is permitted only for your personal use or internal company use as intended pursuant to the Site and the Service, and only as long as you are in compliance with all of the provisions of this Agreement. The Service are accessible only to registered members of the Site, and we are under no obligation to accept any person as a registered member of the Site. The Service is subject to additional terms posted on the Site. If conflicts exist between such terms and this Agreement, the terms of this Agreement shall govern unless such terms expressly state that they prevail over the provisions of this Agreement.
Cloud Database- Auto-Scaling & High Availability for your MySQL DB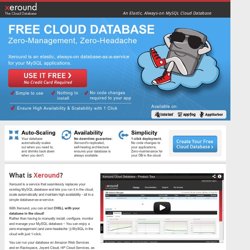 Colabora.NET: Uso de DataBinding
Sres. Desarrolladores, en esta ocasión mi aporte intenta orientar en el uso de la propiedad DataBinding , la cual contiene información sobre una expresión de enlace a datos usando tecnología RAD (Rapid Application Developer). Esta clase no se puede heredar. Información adicional de RAD en los siguientes enlaces: http://www.linux.org.pe/ldd2005/ldd2005-php5_xul-clever-flores.pdf http://www.ldc.usb.ve/~vtheok/cursos/ci3711/apuntes/99-01-14/Info/Modelo RAD.htm http://buscador.hispavista.es/rad/ Los controles que con regularidad se utilizan en aplicaciones Windows así como en aplicaciones Web tienen la propiedad DataBinding, es necesario configurar la propiedad de cada control que contendrá en enlace a los datos, luego para administrar esta se debe utilizar la propiedad BindingContext de la clase contenedora.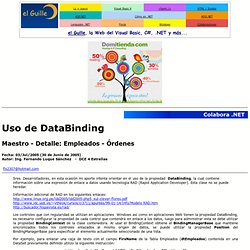 Propiedades de archivos, directorios y unidades en Visual Basic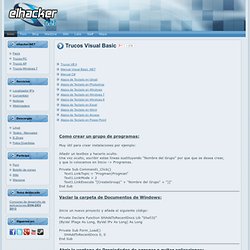 Trucos Visual Basic
Muy útil para crear instalaciones por ejemplo: Añadir un textbox y hacerlo oculto. Una vez oculto, escribir estas líneas sustituyendo "Nombre del Grupo" por que que se desea crear, y que lo colocamos en Inicio -> Programas.
Sección de tutoriales y manuales vb Volver al índice En esta parte se describen los conceptos básicos para el tratamiento y acceso a los archivos en visual basic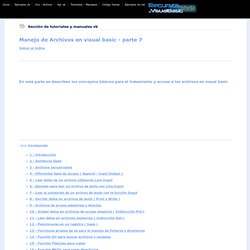 Manejo de Archivos en visual basic y Funciones propias
VB Helper: Index: VB.NET
API de Windows para Visual Basic -Cuarta
1. Cambiar el texto de los botones de un MsgBox (14/Sep/2001) Con el ejemplo que te muestro a continuación, podrás cambiar el texto que se muestra en los botones de un cuadro de diálogo, en este caso de un MsgBox. En este ejemplo, se cambia el texto YES/SI por " Alta " y el NO por " Modificación ", que era lo que quería hacer el que hizo la consulta: ***** (he omitido el nombre de quién tenía la duda, por petición , (aunque no directa a mi persona), del mismo) .