Software
Cross-platform Native Mobile Applications Development Tool for iPhone, iPad, Android, Symbian, Windows Mobile - ELIPS Studio - Products - OpenPlug
Deliver Continuous Mobile Innovation with the Appcelerator Platform The Appcelerator Platform consists of a comprehensive set of integrated products that enable enterprises to create, deliver and analyze their entire mobile application portfolio. Built from the ground up for a Mobile First world, Appcelerator's platform helps enterprises accelerate their time to market, reduce costs, manage risk and deliver exceptional mobile experiences.
Pd Documentation 3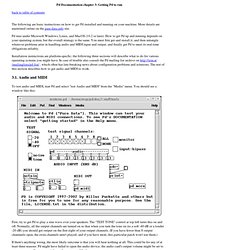 back to table of contents The following are basic instructions on how to get Pd installed and running on your machine. More details are maintined online on the pure-data.info site. Pd runs under Microsoft Windows, Linux, and MacOS (10.2 or later).
This is very informal documentation for the Smeck guitar processing patch described in the paper, "Patch for guitar" (available as HTML or PDF ) presented at the second Pd convention in Montreal, 2007. The patch works for guitars having a separated (6-channel) pickup and audio interface so that the computer receives six channels of audio from the guitar. One such interface is the StringPort from Keith McMillen Instruments; this works fine with macintosh computer, and on Linux with a patch to the alsa driver code (write me for that).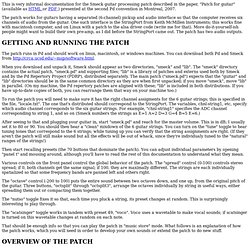 index