Redes y Poderes
Contact is a working festival of innovation where the net's leading minds and entrepreneurs can connect with the people who are building the social technologies of tomorrow.
From the actions of the Egyptian government to the policies of Facebook, the monopolies of central banks to the corporatization of the Internet, |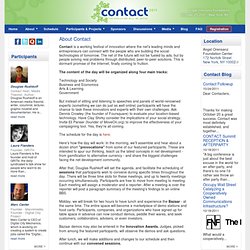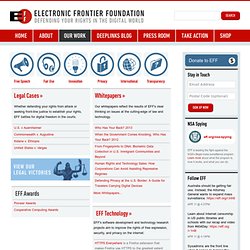 EFF's software development and technology research projects aim to improve the rights of free expression, security, and privacy on the internet. HTTPS Everywhere is a Firefox extension that makes Firefox use HTTPS to the greatest extent possible The SSL Observatory is a view of the state of HTTPS deployment in the IPv4 address spaceSwitzerland detects violations of network neutrality Panopticlick shows how easy it is to uniquely identify browsers
Electronic Frontier Foundation | Defending Freedom in the Digital World
Future FORWARD Institute / FORWARD Foundation
Por: Ramón Sierra, Director de Canales, Wireless Network Solutions de Motorola para Latinoamérica y Caribe.
Agenda Digital México