Redes y Poderes
From the actions of the Egyptian government to the policies of Facebook, the monopolies of central banks to the corporatization of the Internet, | Contact is a working festival of innovation where the net's leading minds and entrepreneurs can connect with the people who are building the social technologies of tomorrow.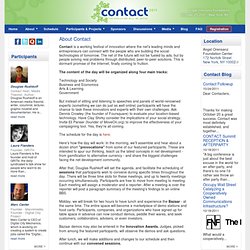 The net of the future will not be fueled by ads, but by people solving real problems through distributed, peer-to-peer solutions. This is dormant promise of the Internet, finally coming to fruition. The content of the day will be organized along four main tracks: Technology and Society Business and Economics Arts & Learning Government.
Welcome. P2P Foundation. Electronic Frontier Foundation | Defending Freedom in the Digital World. EFF's software development and technology research projects aim to improve the rights of free expression, security, and privacy on the internet.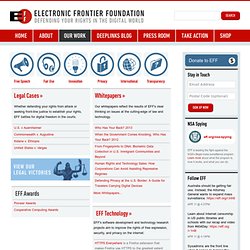 HTTPS Everywhere is a Firefox extension that makes Firefox use HTTPS to the greatest extent possible The SSL Observatory is a view of the state of HTTPS deployment in the IPv4 address spaceSwitzerland detects violations of network neutrality Panopticlick shows how easy it is to uniquely identify browsers. Future FORWARD Institute / FORWARD Foundation.
Agenda Digital México. Por: Ramón Sierra, Director de Canales, Wireless Network Solutions de Motorola para Latinoamérica y Caribe.
Cuando se analiza el tema de las prioridades de inversión en los países en desarrollo siempre aparecen en los primeros lugares, temas relacionados a la reducción de la pobreza y la mejora de los sistemas de salud y educación; hoy en día las municipalidades más avanzadas en todo el mundo ya observan que la adopción de tecnología es un instrumento valioso para avanzar justo en temas como esos, por lo que cada vez existen más ciudades digitales en Latinoamérica, y México no es la excepción. Por experiencias alrededor del mundo es claro que una de las áreas que más beneficios pone a disposición de los ciudadanos es la inversión en conexión de banda ancha; y particularmente en el caso de ciudades pequeñas, donde nunca han contado con esta tecnología, la banda ancha inalámbrica viene a solucionar problemas coyunturales; pongamos algunos ejemplos.
---