Personal
La Teoría del Valle Inexplicable | Microsiervos (Tecnología)
2010でのアクトロイド-Fの操作の様子など
Worldwide | ASIMO
The speaking robot @ MIT
Welcome to LBR - Living Breathing Robots
Overview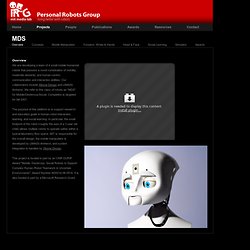 and UMASS Amherst. We refer to this class of robots as "MDS" for Mobile/Dexterous/Social. Completion is targeted for fall 2007.
Stanford Personal Robotics Program
Personal Robotics, Mobile Manipulation Personal robot applications enable people to make themselves more productive at home and at work. PR2 combines the mobility to navigate human environments and the dexterity to grasp and manipulate objects in those environments. Community PR2 allows you to concentrate on your specific field, while taking advantage of the work of specialists in other areas. The PR2 hardware platform and 1000+ software libraries enable you, as a member of the community, to focus on new capabilities.