Gente
good night lamp
matt pearson - zenbullets.com
Everyoneelse
Sebastian Roende Thielke's portfolio
Niklas Roy
Nicholas Zambetti
Peter Kropf
Touch | Interaction with RFID and NFC
Timo Arnall • Director, designer & researcher
Igor Clark
I'm a Reader in Computer Science at the University of Glasgow, UK. My work borrows from philosophy, biology and other disciplines in order to feed into the design and theory of computer systems, especially mobile and ubiquitous computing. I lead the social/ubiquitous/mobile (SUM) group , and we work on theory, infrastructure and applications such as mobile multiplayer games and systems for health and fitness, cultural tourism and sports fans. My main project is A Population Approach to Ubicomp Systems Design , which investigates a new treatment of software class as a varied and evolving population of instances. Our collaborators include the Edinburgh festivals and a number of Scottish Premier League football clubs. Also, I'm always on the lookout for good PhD applications.
Matthew Chalmers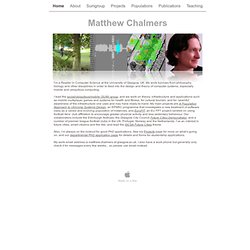 Pasta&Vinegar
September 15th, 2012 | No Comments » Time for presenting summer project outcomes! In July and August, I spent two months in the Media Design Program department at Art Center College of Design in Pasadena, California. As I mentioned few weeks ago, the project was called CURIOUS RITUALS: Gestural Interaction in the Digital Everyday and focused on the postures, gestures and habits related to digital devices such as laptops, cell phones, remote-controls, sensors or robots. Along with Katherine Miyake , Nancy Kwon and Walton Chiu , we produced two things: (1) A book (.PDF, 3.1Mb) documenting current digital gestures (based on a preleminary field study in European cities and in Southern California, with essays from Dan Hill and Julian Bleecker), (2) A design fiction film that speculate about their evolution in the near future. I'll post more material about the project in the next few weeks (approach, rationale, findings).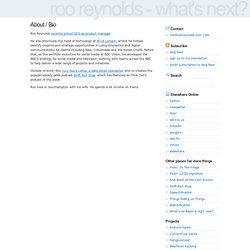 About / Bio
Roo Reynolds recently joined GDS as product manager . He was previously the head of technology at W+K London , where he helped identify creative and strategic opportunities in using interactive and digital communications for clients including Nike, Cravendale and the Kaiser Chiefs. Before that, as the portfolio executive for social media at BBC Vision, he developed the BBC's strategy for social media and television, working with teams across the BBC to help deliver a wide range of projects and initiatives. Outside of work, Roo runs Roo's Letter, a daily email newsletter and co-creates the popular weekly geek podcast Shift Run Stop , which has featured as Time Out's podcast of the week. Roo lives in Southampton with his wife.
Geraldine Juárez : simple.mechanisms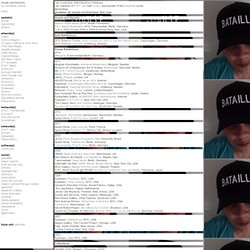 I born in Mexico City, de-schooled myself in New York and now i live and work in Sweden. I use technology and copy culture for interact with and reflect on the spaces, systems and situations that emerge when information, property and power clash. I am a fellow of FAT LAB , half Forays and member of the Electronics Studio at KKV.
David Wicks :: sansumbrella
I like to do nice work and have done it in some lovely places. BBDO - TBWA – Wieden + Kennedy – Glue London – Holler – Kerb Anything involving creative uses of interaction \ communication design be it on the internet \ physical interaction \ mobile – is really where my head is at.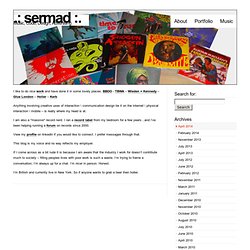 .: sermad :. » About
Home | Marek Bereza - Interaction/Industrial Designer - Work Blog
Superduper
Andy Huntington Interaction & Sound
Jørn Knutsen - Designing and researching
Einar Sneve Martinussen
Martin Rieser media artist and writer personal website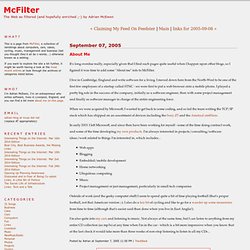 About Me It's long overdue really, especially given that I find such pages quite useful when I happen upon other blogs, so I figured it was time to add some "About me" info to McFilter. I live in Cambridge, England and write software for a living. I moved down here from the North-West to be one of the first few employees of a startup called STNC - we were first to put a web browser onto a mobile phone. I played a pretty big role in the success of the company, initially as a software engineer, then with some project management and finally as software manager in charge of the entire engineering force. When we were acquired by Microsoft, I wanted to get back to some coding, and so led the team writing the TCP/IP stack which has shipped on an assortment of devices including the Sony Z5 and the Amstrad em@ilers .
McFilter: About Me
The Shard, September 2011 to February 2013 · 3.02.13 I went up the Shard on Friday, on the first day of public opening. The floors of the viewing galleries, 69 and 72, are the same ones I stood on in 2011 , when they had just been poured.
Chris Heathcote: anti-mega