Gente
good night lamp
Alien Tech Prototypes (2013) When a client doesn't like any of the 10 prototypes you've produced, how about giving them 10,000 to chose from with the next delivery. Futuredeluxe were in this situation when creating imaginary alien technological artefacts for a forthcoming kids film. I built them a tool to algorithmically construct 3D forms, which could be output to Cinema4D for rendering.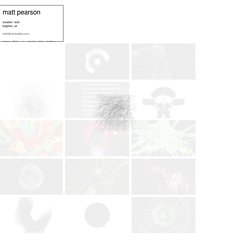 matt pearson - zenbullets.com
Hello! This website has been my playground while studying at DKDS and CIID the past years. School is out and I'm super excited to be a part of a new creative agency: Trace Please visit traceagency.com and come say hello. We are based in Copenhagen. - Anders
Everyoneelse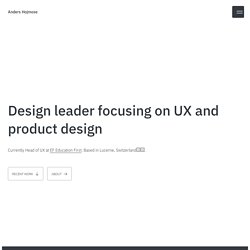 Sebastian Roende Thielke's portfolio
The National Audiovisual Institute of Poland invited me and the artist collective panGenerator to make a new installation. We called it "Explosive Digital Data Storage". You can see it (and try it out) at Kordegarda Gallery in Warsaw for the next two weeks. Below is a picture of the opening and soon, I'll publish a documentation. Photo by Bartek Warzecha for NInA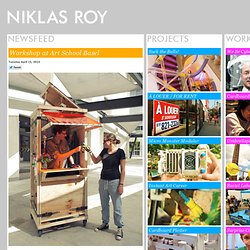 Niklas Roy
Nicholas Zambetti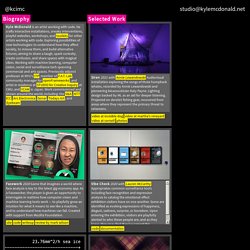 Bio Kyle McDonald is an artist who works in the open with code. He is a contributor to arts-engineering toolkits like openFrameworks, and spends a significant amount of time building tools that allow artists to use new algorithms in creative ways. His work is very process-oriented, and he has made a habit of sharing ideas and projects in public before they're completed.
Peter Kropf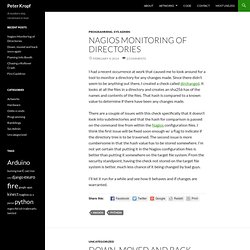 I had a recent occurrence at work that caused me to look around for a tool to monitor a directory for any changes made. Since there didn't seem to be anything out there, I created a check called dirchanged. It looks at all the files in a directory and creates an sha256 has of the names and contents of the files. That hash is compared to a known value to determine if there have been any changes made. There are a couple of issues with this check specifically that it doesn't look into subdirectories and that the hash for comparison is passed on the command line from within the Nagios configuration files. I think the first issue will be fixed soon enough w/ a flag to indicate if the directory tree is to be traversed.
Touch | Interaction with RFID and NFC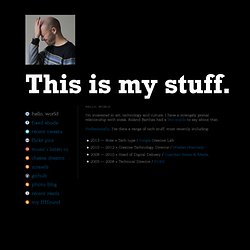 Igor Clark
Igor Clark posted a photo: Having rarely seen much of it in the flesh before yesterday, I've never really been sure what I think about Rothko's work. I suppose I'd always thought there was a kind of grim humour to it, with these huge window-like figures hung high in windowless gallery rooms; and I was aware not only of a Warhol-like fascination with repetition, cycle, and (im)mutability, but also of a somewhat Klein-esque experimentation with colour, texture and profundity — even if my perception of it was mediated and inevitably emasculated through the Habitat-isation of (e.g.)
I'm a Reader in Computer Science at the University of Glasgow, UK. My work borrows from philosophy, biology and other disciplines in order to feed into the design and theory of computer systems, especially mobile and ubiquitous computing. I lead the social/ubiquitous/mobile (SUM) group, and we work on theory, infrastructure and applications such as mobile multiplayer games and systems for health and fitness, for cultural tourism, and for 'seamful' awareness of the infrastructure one uses and may have ready-to-hand. My main projects are A Population Approach to Ubicomp Systems Design, an EPSRC programme that investigates a new treatment of software class as a varied and evolving population of instances, and EuroFIT, an EU FP7 project centred on using football fans' club affiliation to encourage greater physical activity and less sedentary behaviour.
Matthew Chalmers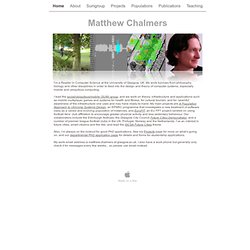 Pasta&Vinegar
September 15th, 2012 | No Comments » Time for presenting summer project outcomes! In July and August, I spent two months in the Media Design Program department at Art Center College of Design in Pasadena, California. As I mentioned few weeks ago, the project was called CURIOUS RITUALS: Gestural Interaction in the Digital Everyday and focused on the postures, gestures and habits related to digital devices such as laptops, cell phones, remote-controls, sensors or robots. Along with Katherine Miyake , Nancy Kwon and Walton Chiu , we produced two things: (1) A book (.PDF, 3.1Mb) documenting current digital gestures (based on a preleminary field study in European cities and in Southern California, with essays from Dan Hill and Julian Bleecker), (2) A design fiction film that speculate about their evolution in the near future. I'll post more material about the project in the next few weeks (approach, rationale, findings).
About / Bio
Geraldine Juárez : simple.mechanisms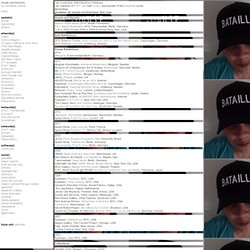 I am a mexican artist based in Göteborg. I am member of F.A.T Lab, half Forays and founder of the Dataslöjd studio. @sinkdeepgeraldine /at/ simple-mechanisms /dot/ com
David Wicks :: sansumbrella
I like to do nice work and have done it in some lovely places. BBDO - TBWA – Wieden + Kennedy – Glue London – Holler – Kerb Anything involving creative uses of interaction \ communication design be it on the internet \ physical interaction \ mobile – is really where my head is at.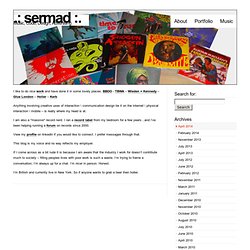 .: sermad :. » About
Home | Marek Bereza - Interaction/Industrial Designer - Work Blog
A sound-responsive laser installation set to The Rite of Spring, performed with the North Netherlands Symphony Orchestra. Arcade were commissioned to make a visual accompaniment to Stravinsky's masterpiece. The project was produced by the Groninger Forum for the Timeshift festival in Holland, to celebrate the 100-year anniversary of the controversial first performance of The Rite of Spring. Our response was to construct a virtual architecture from laser beams, transforming the music into a dynamic forest of sound and light. 50 lasers were installed in the auditorium, each one connected to an individual instrument.
Superduper
Andy Huntington Interaction & Sound
Jørn Knutsen - Designing and researching
We recently won a opinion-article competition! The competition was organised by Norsk Form and Dagbladet, and centred around design and society. We wrote a text about technology, politics and the wonders of the Norwegian public services.
Einar Sneve Martinussen
Martin Rieser media artist and writer personal website
McFilter: About Me
Chris Heathcote: anti-mega