Gente
Good night lamp. Matt pearson - zenbullets.com. Everyoneelse. Sebastian Roende Thielke's portfolio. Niklas Roy. Nicholas Zambetti. Kyle McDonald. Peter Kropf. Touch | Interaction with RFID and NFC. Timo Arnall • Director, designer & researcher. Igor Clark. Matthew Chalmers. I'm a Reader in Computer Science at the University of Glasgow, UK.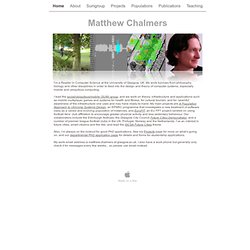 My work borrows from philosophy, biology and other disciplines in order to feed into the design and theory of computer systems, especially mobile and ubiquitous computing. I lead the social/ubiquitous/mobile (SUM) group, and we work on theory, infrastructure and applications such as mobile multiplayer games and systems for health and fitness, for cultural tourism, and for 'seamful' awareness of the infrastructure one uses and may have ready-to-hand. My main projects are A Population Approach to Ubicomp Systems Design, an EPSRC programme that investigates a new treatment of software class as a varied and evolving population of instances, and EuroFIT, an EU FP7 project centred on using football fans' club affiliation to encourage greater physical activity and less sedentary behaviour.
Pasta&Vinegar. September 15th, 2012 | No Comments » Time for presenting summer project outcomes!
In July and August, I spent two months in the Media Design Program department at Art Center College of Design in Pasadena, California. As I mentioned few weeks ago, the project was called CURIOUS RITUALS: Gestural Interaction in the Digital Everyday and focused on the postures, gestures and habits related to digital devices such as laptops, cell phones, remote-controls, sensors or robots. Along with Katherine Miyake , Nancy Kwon and Walton Chiu , we produced two things: (1) A book (.PDF, 3.1Mb) documenting current digital gestures (based on a preleminary field study in European cities and in Southern California, with essays from Dan Hill and Julian Bleecker), (2) A design fiction film that speculate about their evolution in the near future.
I'll post more material about the project in the next few weeks (approach, rationale, findings). About / Bio. Geraldine Juárez : simple.mechanisms. I am a mexican artist based in Göteborg.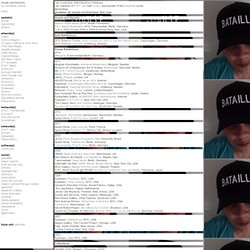 I am member of F.A.T Lab, half Forays and founder of the Dataslöjd studio. @sinkdeepgeraldine /at/ simple-mechanisms /dot/ com. David Wicks :: sansumbrella. .: sermad :. » About. I like to do nice work and have done it in some lovely places.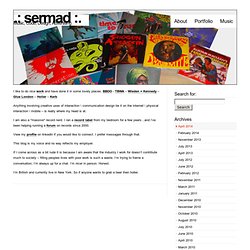 BBDO - TBWA – Wieden + Kennedy – Glue London – Holler – Kerb Anything involving creative uses of interaction \ communication design be it on the internet \ physical interaction \ mobile – is really where my head is at. Home | Marek Bereza - Interaction/Industrial Designer - Work Blog. James Alliban. Superduper. Andy Huntington Interaction & Sound. Jørn Knutsen - Designing and researching. Einar Sneve Martinussen. Martin Rieser media artist and writer personal website. BERG. McFilter: About Me. About Me It's long overdue really, especially given that I find such pages quite useful when I happen upon other blogs, so I figured it was time to add some "About me" info to McFilter.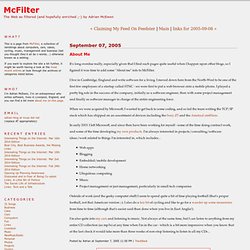 I live in Cambridge, England and write software for a living. I moved down here from the North-West to be one of the first few employees of a startup called STNC - we were first to put a web browser onto a mobile phone. I played a pretty big role in the success of the company, initially as a software engineer, then with some project management and finally as software manager in charge of the entire engineering force. When we were acquired by Microsoft, I wanted to get back to some coding, and so led the team writing the TCP/IP stack which has shipped on an assortment of devices including the Sony Z5 and the Amstrad em@ilers. Chris Heathcote: anti-mega.
Turn up and go · 18.03.14 Over 6 months ago, a question came to mind: how far could I get from London for a tenner?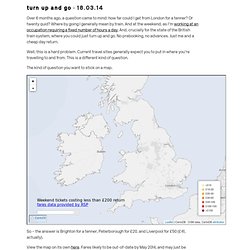 Or twenty quid?
---