LLEW
C QA - Recommended list of Doctype declarations you can use in your Web document. Warning The list is informative and does not try to be exhaustive (there are many other proper declarations you could use), but it has most of the declarations commonly used on the Web at the moment.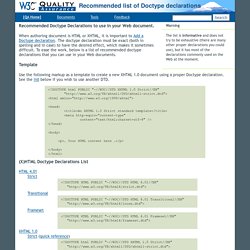 Recommended Doctype Declarations to use in your Web document. A Simple Character Entity Chart. Oops...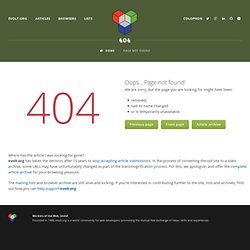 Page not found! We are sorry, but the page you are looking for might have been: removed, had its name changed or is temporarily unavailable. The evolution of the web. Llenguatges i estàndards - Introducció al currículum d'estàndards web/continguts. Chris Mills. 8 de juliol del 2008.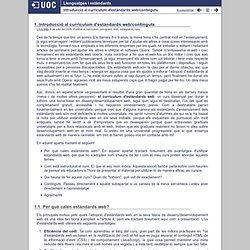 Publicat a: currículum, principiant, web, estàndards, curs Des de fa temps que tinc un somni. Els darrers 8 o 9 anys, la meva feina s'ha centrat molt en l'ensenyament, ja sigui encarregant i editant publicacions tècniques per tal d'ajudar els altres a crear coses interessants amb la tecnologia, formant nous empleats a les diferents empreses per les quals he treballat o editant i redactant articles de seminaris per ajudar els altres a utilitzar el software Opera. També m'entusiasma el web i crec fermament en els estàndards web oberts.
Volia contribuir a fer que el web fos un lloc millor i crec que això torna a tenir a veure amb l'ensenyament, ja sigui ensenyant els altres com col·laborar i tenir més respecte mutu o ensenyant-los com fer que els seus llocs web funcionin en totes les plataformes i dispositius, i siguin accessibles per a persones discapacitades. Portada - Mediawiki8.
---