Space
Get flash to fully experience Pearltrees
On December 14th 2009 De Balie – an Amsterdam-based center for culture and politics – organized an evening about old and new cartographies . Participants were Ferjan Ormeling (Emeritus Professor Cartography, Faculty of Geographical Sciences, Utrecht University), Henk van Houtum (Associate Professor of Geopolitics and Political Geography, Head of the Nijmegen Centre for Border Research), Maarten Keulemans (science journalist), Jelle Reumer (director Natural Museum Rotterdam, Special Professor at Utrecht University), Lucas Keijning ( NEMO science center ), and me. The evening was lead by Volkskrant journalist Martijn van Calmthout . The evening was set up as a prelude to the presentation of a new world map the day after in The Hague. From the announcement: We have been making maps for centuries, to establish territorial borders or mark safe routes.
January 27th, 2010 by Jeffrey Warren A group of activists, educators, technologists, and community organizers now known as Public Laboratory came together to organize the Gulf Oil Mapping project . Since May 2010, we have been working with New Orleans-based Louisiana Bucket Brigade to get Gulf Coast residents out on boats and along beaches to produce high-resolution aerial imagery of the spill's effects.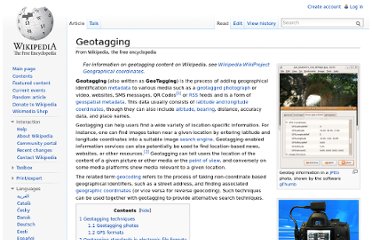 Geotag information in a JPEG photo, shown by the software gThumb Geotagging (also written as GeoTagging ) is the process of adding geographical identification metadata to various media such as a geotagged photograph or video, websites, SMS messages, QR Codes [ 1 ] or RSS feeds and is a form of geospatial metadata . This data usually consists of latitude and longitude coordinates , though they can also include altitude , bearing , distance, accuracy data, and place names. Geotagging can help users find a wide variety of location-specific information. For instance, one can find images taken near a given location by entering latitude and longitude coordinates into a suitable image search engine .