Coops/Farmer's Markets
Welcome to Veritas Farms
Welcome to Sprout Creek Farm
Cafe Bocca
Remsburger Maple Farm, Apiary - Quality Maple Syrup & Honey Products,Maple Candy,New York
Creekside Acres is a small, family run farm located in the heart of the Hudson Valley. We started our farm in 2006 as a hobby farm for fun with just two alpacas. Now, we have a foundation herd of pygora goats, alpacas and a llama. All of our animals are friendly, handled on a regular basis and are included in 4-H programs.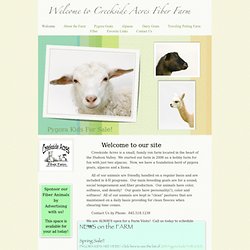 Welcome to Creekside Acres Fiber Farm
The Hyde Park Chamber of Commerce is a volunteer organization... a source of information... a representative of business... a catalyst.... the Chamber is people. It is people who want to promote orderly growth; people who work together to solve problems and advance programs to make Hyde Park a better place to live and make a living. — Contact a Board Member. Two objectives of the Chamber of Commerce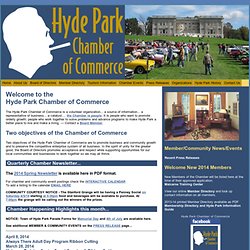 Welcome to the Hyde Park Chamber of Commerce
The Rhinebeck Farmers Market
The market began back in 1994 when a group of residents and business people organized with the goal of creating a venue to promote Hudson Valley agricultural products and to enhance the social and economic vitality of the Town and Village of Rhinebeck. The market has since evolved into something greater. It has become Rhinebeck's Sunday morning gathering place. A place where neighbors meet and mingle and visitors can sample the very best of the Hudson Valley.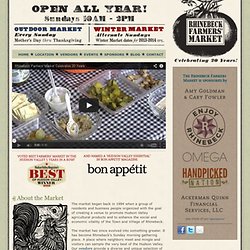 Joia Foods
Wild Hive Farm, Store & Café Bakery
Welcome Welcome to Wild Hive Farm Wild Hive Farm was founded to promote sustainable agriculture in the Hudson Valley through grain based local agriculture.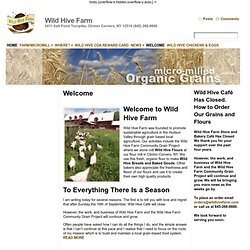 Poughkeepsie Farm Project | Connecting Farm, Food and Community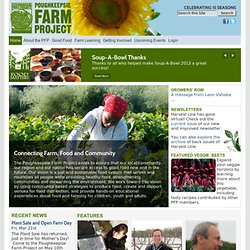 Dear CSA Members, On behalf of your PFP Board of Directors, I'm happy to announce that Lee Anne Albritton became our new Executive Director on February 17. A native of Florida, Lee Anne moved to Manhattan in 1990, then to the mid-Hudson Valley in 1996. In 2000, she completed her B.A. in Women's Studies and Education at SUNY New Paltz.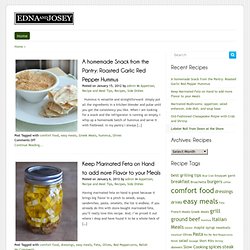 A homemade Snack from the Pantry: Roasted Garlic Red Pepper Hummus Posted on January 15, 2012 by admin in Appetizer, Recipe and Meal Tips, Recipes, Side Dishes Hummus is versatile and straightforward– simply put all the ingredients in a kitchen blender and pulse until you get the consistency you like. When I am looking for a snack and the refrigerator is running on empty, I whip up a homemade batch of hummus and serve it with flatbread. In my pantry I always […] Comments Off Continue Reading... Keep Marinated Feta on Hand to add more Flavor to your Meals Posted on January 6, 2012 by admin in Appetizer, Recipe and Meal Tips, Recipes, Side Dishes Having marinated feta on hand is great because it brings big flavor in a pinch to salads, soups, sandwiches, pasta, omelets, the list is endless.
| Edna and Josey