Twitter-crm-sav
I'm Big On Twitter - Submit Your Photo And Get Rated On Twi. How to Get Customer Service via Twitter - ReadWriteWeb. There has been a lot of talk lately of companies monitoring social media, be it Twitter, blogs, or social networking sites, for mentions of their company name and responding to customer service issues.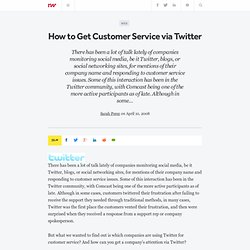 Some of this interaction has been in the Twitter community, with Comcast being one of the more active participants as of late. Although in some cases, customers twittered their frustration after failing to receive the support they needed through traditional methods, in many cases, Twitter was the first place the customers vented their frustration, and then were surprised when they received a response from a support rep or company spokesperson. But what we wanted to find out is which companies are using Twitter for customer service? Marre d'attendre au téléphone pour régler un incident avec votre accès internet ?
Pour peu que votre connexion ne soit pas coupée, passez plutôt par Twitter. Peu d'internautes le savent, mais depuis quelques mois, il est possible de communiquer en temps réel avec un « conseiller Twitter ». Selon nos constatations, les fournisseurs d'accès français Free, SFR, Bouygues Telecom et plus récemment Nerim, ont adopté cette nouvelle forme de relation avec leurs clients.
Il faut dire que cette nouvelle forme d'échange directe avec les clients présente des avantages : personnalisée, réactive et totalement gratuite.
---