Community management
Social media - The Best workshop ever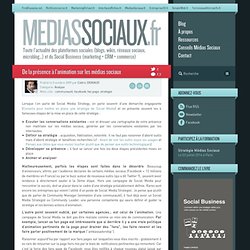 Lorsque l'on parle de Social Media Strategy, on parle souvent d'une démarche engageante ( Conseils pour mettre en place une stratégie de Social Media ) et on présente souvent les 4 fameuses étapes de la mise en place de cette stratégie : Ecouter les conversations existantes : voir et dresser une cartographie de votre présence non maitrisée sur les médias sociaux, générée par les conversations existantes par les internautes. Définir sa stratégie : acquisition, fidélisation, notoriété. Il ne faut pas raisonner d'abord outils mais d'abord stratégie et bénéfices recherchés (cf : Avant de voir les outils voyez les usages et Pensez aux cibles que vous voulez toucher plutôt que de penser aux outils technologiques ) Développer sa présence : il faut se lancer une fois les deux étapes précédentes mises en place Animer et analyser
Médias sociaux » Archive du blog » De la présence à l'animation
Membership has its meaning
In newspapers' game of revenue roulette, there's a lot of talk lately about their trying to create membership plans. The New York Times and the Guardian, to name two, reportedly have visions of tote bags, mugs, and events in their heads. And I think that's a fine idea. No salvation. But a fine idea. I'll wear a Guardian hat proudly.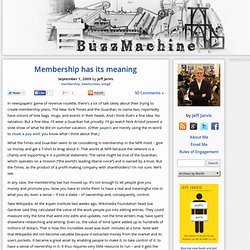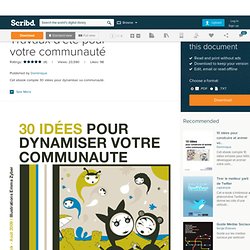 répétez l'opération jusqu'à obtenir une version satisfaisante. Idée 8 Dit es « no us» quan d vous parlez à vos membres. "Vous restez avec nous ?
There has been a lot of buzz lately about how many empty or failed online communities litter the web. As with any hype-cycle, people run out to get or make the latest thing - in this case a social network or community - and often don't think through what having one will be like. It's kind of like getting a puppy - exciting at first, but hard work thereafter! So, the question at hand is how to keep your community alive and thriving. Or, on the flip side, here are the top 10 ways to (inadvertently) to kill an online community: 1) Launch your community without a beta group.
How to kill an online
Blog » Blog Archive » Your online community should work offline
It can be tempting to think of online communities as just that, communities that exist only online. The truth is that nothing could be further from the truth. The best online communities are those that operate as actual communities, with social dynamics and social rules. The online community should work offline too. In fact some of the best online communities are those that integrate offline events and activities or seamlessly bring together the online and offline experiences.
Je me suis déjà à plusieurs fois exprimé sur le sujet ( Social Media Expert ? Community Manager ? et Dialoguer sur Internet nécessite un community manager ).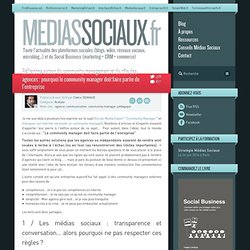 J'ai sincèrement un peu de mal avec cette tendance actuelle à vouloir créer des postes de Community Manager pour animer des réseaux internes. Cela peut sembler une bonne idée au départ. A mon avis, c'est contre-productif. Certains font le parallèle avec la fonction de Webmaster d'il y a un peu moins d'une dizaine d'années. Quand chaque direction voulait son Intranet - au lieu qu'on leur accorde leur espace au sein de l'Intranet, voulait son propre webmaster qui était une personne dont la valeur ajoutée au final était relativement faible.
Un community manager pour l'interne ? - JBlog Pro, by JB Plantin