Ensaladas
- StumbleUpon. From the molten yolk and bacon crunch of a hand-held breakfast, to the gooey charm of grilled cheese for lunch, nothing matches the simple pleasures of well-made sandwiches.
They're quick to assemble, infinitely adaptable, easy to eat, and immediately satisfying—the very definition of good food. The 25 sandwiches you're about to meet can be thrown together during the average basketball halftime or, with practice, during the seventh-inning stretch. (Who needs hot dogs, anyway?) Recipe Index for Salad in a Jar. Appetizers Dips and Dressings Salad Bread Savory Loaves and Rolls Sweet Yeast Rolls and Coffee Cakes.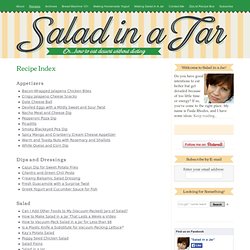 Vegan Salad in a Jar. Make-Ahead Bliss. Salad.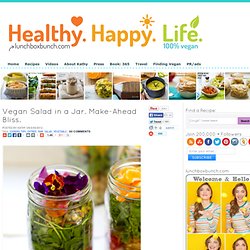 In a jar. I totally get this one. A while back (and maybe still) there was a spirited "foods in a jar" trend hovering around the food blogs. Make Salad in a Jar for an Easy Grab-and-Go Lunch That Stays Fresh for Days.
---