Educational Tech
Integrating Technology into the Language Arts Classroom, Teaching Today. Literacy & Technology Integration at The Literacy Web. Using Technology to Enhance Literacy Instruction. This Critical Issue was coauthored by Ann Holum, Ph.D., and Jan Gahala, M.A.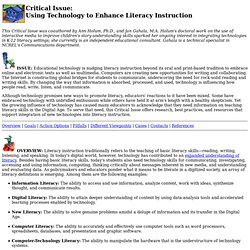 Holum's doctoral work on the use of interactive media to improve children's story-understanding skills sparked her ongoing interest in integrating technologies in K-12 literacy settings; she currently is an independent educational consultant. Gahala is a technical specialist in NCREL's Communications department. ISSUE: Educational technology is nudging literacy instruction beyond its oral and print-based tradition to embrace online and electronic texts as well as multimedia. Computers are creating new opportunities for writing and collaborating. The Internet is constructing global bridges for students to communicate, underscoring the need for rock-solid reading and writing skills. Effects of Technology on Classrooms and Students. A r c h i v e d I n f o r m a t i o n Change inStudent andTeacherRoles When students are using technology as a tool or a support for communicating with others, they are in an active role rather than the passive role of recipient of information transmitted by a teacher, textbook, or broadcast.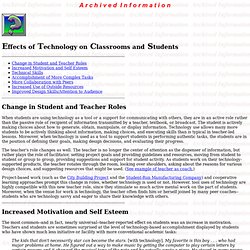 The student is actively making choices about how to generate, obtain, manipulate, or display information. Technology use allows many more students to be actively thinking about information, making choices, and executing skills than is typical in teacher-led lessons. Moreover, when technology is used as a tool to support students in performing authentic tasks, the students are in the position of defining their goals, making design decisions, and evaluating their progress. Ushering iPad into the Classroom. Mobile Computing | Spotlight Ushering iPad into the Classroom A number of built-in features, tools, and add-ons are helping to propel Apple's iPad into the classroom.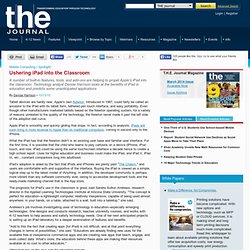 Technology analyst Denise Harrison looks at the benefits of iPad in education and predicts some unanticipated applications Tablet devices are hardly new; Apple's own Newton, introduced in 1987, could fairly be called an ancestor to the iPad with its tablet form, tethered pen touch interface, and easy portability. Even though other manufacturers marketed tablets based on the Newton operating system, for a variety of reasons unrelated to the quality of the technology, the Newton never made it past the left side of the adoption bell curve. 10 Tips for Teachers Using Evernote – Education Series.
Posted by Michael Cruz on 13 Jan 2011 Comment Michael Cruz is a great example of someone that has fully embraced the benefits of putting technology to use in a classroom setting.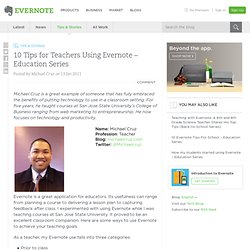 For five years, he taught courses at San Jose State University's College of Business ranging from web marketing to entrepreneurship. He now focuses on technology and productivity. Evernote is a great application for educators. Types Of Assistive Technology Devices. Family Center on Technology and Disability (FCTD) - Assistive Technology Works! GAZETTE - Teachers.Net Gazette provides news from Teachers.Net direct to teachers around the world. Teachers.Net features 24 hour discussions with teachers around the globe. Early childhood chatboard primary elementary chatboard upper element.
Teacher Feature...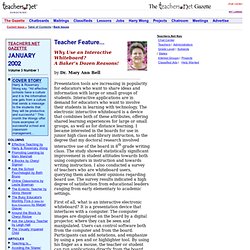 Why Use an Interactive Whiteboard? A Baker's Dozen Reasons! By Dr. Mary Ann Bell.
---