Politics
TomPaine.Com - Home. We the People, Not We the Corporations. The Narrow Bridge. The Green Party of the United States. The Nader Page. Political Issues that Matter - Ralph Nader's Views on the Issues. Remember, these issues represent the tip of the political iceberg.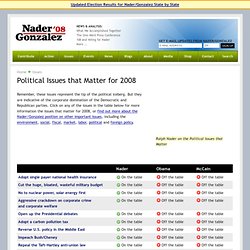 But they are indicative of the corporate domination of the Democratic and Republican parties. Click on any of the issues in the table below for more information the issues that matter for 2008, or find out more about the Nader/Gonzalez position on other important issues, including the environment, social, fiscal, market, labor, political and foreign policy. Ralph Nader on the Political Issues that Matter Shift the Power. Center for Study of Responsive Law. PFAW.
AIPAC - The American Israel Public Affairs Committee.
---