Politics
In this interview, Rep. Alan Grayson explains why Florida Gov. Rick Scott made the political decision that led to the death of Charlene Dill, and could lead to 7,000 unnecessary deaths in the next year. This week, a key underpinning to the whole teacher evaluation program pushed by the Obama administration was cast into doubt.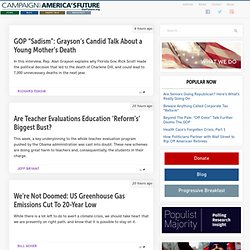 This month's issue of The Atlantic contains a long thoughtful and downcast article about the possible effects of long-term unemployment on the American national character. One section in particular is very much up my alley: about how the shifting job market and how it might affect the Millennial generation. Graduating into a recession, it turns out, can afflict your income for a lifetime.
The Narrow Bridge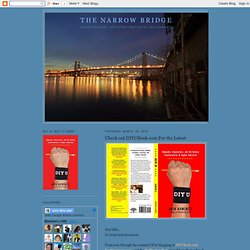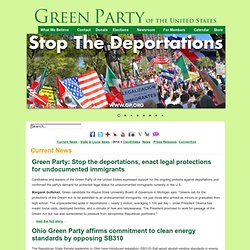 Hawkins seeking NY Green nomination to run against Governor 1% photo: ArtVoice Andrew Cuomo's State of the State address highlighted tokens of social liberalism for his working and middle class voter base. But we cannot let that divert us from his very conservative class agenda for his rich donor base. Cuomo touts prosperity but practices austerity. The Green Party calls for progressive property tax relief program based shifting more of the tax burden for both local and state government away from regressive sales and property taxes and on to more progressive personal and business income taxes.
The Nader Page
Remember, these issues represent the tip of the political iceberg. But they are indicative of the corporate domination of the Democratic and Republican parties. Click on any of the issues in the table below for more information the issues that matter for 2008, or find out more about the Nader/Gonzalez position on other important issues, including the environment, social, fiscal, market, labor, political and foreign policy. Ralph Nader on the Political Issues that Matter Shift the Power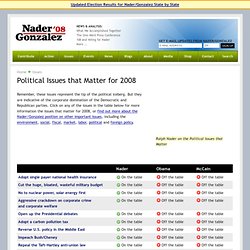 Political Issues that Matter - Ralph Nader's Views on the Issues
Center for Study of Responsive Law
House and Senate members are signing bipartisan letters to the president expressing their concerns about Iran's nuclear weapons program and the need for congressional engagement in the negotiations. Lawmakers have introduced legislation that seeks to dramatically strengthen the strategic partnership between the United States and Israel. President Obama has requested $3.1 billion in security assistance for Israel as part of his budget for fiscal year 2014. The president has also requested $220.3 million in additional funding for the Iron Dome missile defense system.