NYC Jobs
Startseite_dgvn.de: DGVN - Deutsche Gesellschaft für die Vereinten Nationen e.V.
Public Lecture & Panel Discussion with Khalid Malik, Director of the Human Development Report Office (UNDP) 4. UN-Forschungskolloquium:Die Vereinten Nationen zwischen Fragmentierung und Kohärenz9. bis 11. Mai 2014 am Deutschen Institut für Entwicklungspolitik (DIE), Bonn Interdisziplinärer und praxisorientierter Erfahrungsaustausch von Völkerrechtlern, Politikwissenschaftlern, Diplomaten und UN-Mitarbeitern, mit Referaten zu den Themenaspekten "Neustrukturierung des UN-Systems, die Rolle der nichtstaatlichen Akteure ...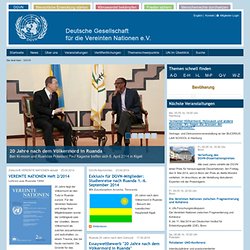 Recruitment Welcome to the UNOPS Global Personnel Recruitment System (GPRS), an online recruitment system which connects skilled candidates to diverse and challenging jobs in aid and development. The GPRS allows candidates to apply for current vacancies within UNOPS and to register for the UNOPS roster in order to be considered for upcoming positions. The GPRS has been designed to simplify and streamline the application process, allowing applicants to create and save a personal profile and use this to apply to multiple positions. Applicants can monitor the status of applications by logging into their account.
Vacancies
Applicant Cockpit
My UN
Meet the Somalis is a collection of 14 illustrated stories depicting the real-life experiences of Somalis in seven cities in Europe: Amsterdam, Copenhagen, Helsinki, Leicester, London, Malmo, and Oslo. Based on firsthand testimonies, the stories depict experiences many of us will never know, like fleeing a warzone with your children or, worse, leaving your loved ones behind. But more often, these stories portray the values shared among many of us, like the importance of family, well-being, and identity in an ever-changing world.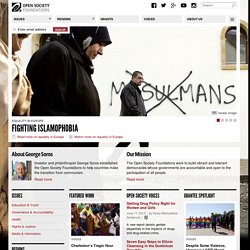 The Permanent Mission of Germany to the United Nations New York - Home
International Vacancies: New York, USA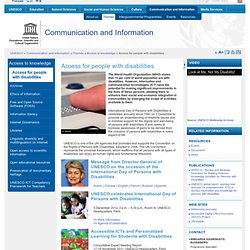 Access for people with disabilities
The World Health Organization (WHO) states that 15 per cent of world population are with disabilities. However, information and communication technologies (ICT) have the potential for making significant improvements in the lives of these persons, allowing them to enhance their social and economic integration in communities by enlarging the scope of activities available to them. International Day of Persons with Disabilities is celebrated annually since 1992 on 3 December to promote an understanding of disability issues and to mobilise support for the dignity and well-being of persons with disabilities. It also seeks to increase awareness of gains to be derived from the inclusion of persons with disabilities in every aspect of life.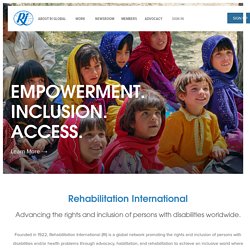 Rehabilitation International
RI press release on disaster and persons with disabilities Read More → Some 5,000 people, many of them from civil society, were consulted from around the world and their thoughts became the building blocks for the High Level Panel Report described as "bold and practical" that was presented at the ECOSOC chamber of the United Nations on May 31, 2013. Rehabilitation International was among the members of civil society which witnessed the event. Michael Anderson, Co-Chair of the Panel, in his remarks said the post-2015 MDGs has a universal agenda with five transformative shifts to end poverty in 2030, as follows: (1) leaves no one behind (2) sustainable development... [Read more]
The National Organization on Disability » Contact Us
Deutsche Organisationen in NY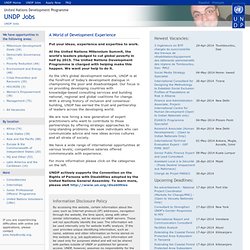 A World of Development Experience Put your ideas, experience and expertise to work. At the United Nations Millennium Summit, the world's leaders pledged to cut global poverty in half by 2015. The United Nations Development Programme is charged with helping make this happen.
Contact Go to the Associate Expert Programme website Requirements an advanced university degree a minimum of two years of relevant work experience strong command of one of the working languages of the United Nations, English or French; an additional official language is an asset age normally 32 or younger, but this varies by donor country If you are a skilled graduate with energy, enthusiasm and an eagerness to join the United Nations, the Associate Expert Programme may be the right route for you. The goal of the Associate Expert Programme is to provide assistance to developing countries and to offer university graduates an opportunity to get professional experience in the United Nations Capacity Development.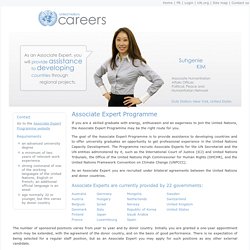 Careers
Inspira