Symfony Framework
ApplicationsDevelopedWithSymfony. This page lists websites that are powered by symfony.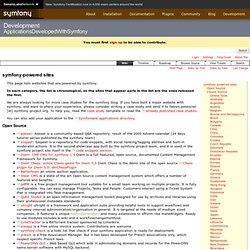 In each category, the list is chronological, so the sites that appear early in the list are the ones released the first. We are always looking for more case studies for the symfony blog. If you have built a major website with symfony, and want to share your experience, please consider writing a case study and send it to fabien.potencier [at] symfony-project.org. To help you, read the case study template or read the already published case studies. You can also add your application to the Symfonians applications directory. Symfony 1.2 User Guide. Symfony en pratique avec Propel. Symfony et la persistance des données. Derrière ce titre que Franz Schubert ne renierait pas se cachent nos interrogations au sujet de l'excellent framework Symfony qui, à peine un an après son lancement, s'impose peu à peu sur le devant de la scène PHP.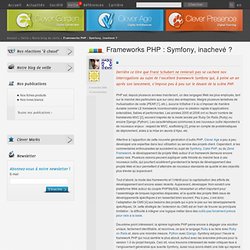 PHP est, depuis plusieurs années maintenant, un des langages Web les plus employés, tant sur le marché des particuliers que sur celui des entreprises. Malgré plusieurs tentatives de mutualisation de code (PEAR [1], etc.), aucune initiative n'a su s'imposer de manière durable comme LE framework incontournable pour la création rapide d'applications extensibles, fiables et performantes. Les années 2005 et 2006 ont vu fleurir nombre de frameworks MVC [2], souvent inspirés de la mode lancée par Ruby On Rails (Ruby) ou encore Django (Python). Les caractéristiques communes à ces nouveaux outils répondent à de nouveaux enjeux : respect de MVC, scaffolding [3], prise en compte de problématiques de déploiement, aides à la mise en œuvre d'Ajax, etc.
---