Social Media Education
Adopted by the NCTE Executive Committee, November 2008 By: National Association for Media Literacy Education (NAMLE), Student Television Network (STN), Media Commission of the National Council of Teachers of English (NCTE), Action Coalition for Media Education (ACME), and Visual Communication Division of the International Communication Association (ICA) WHAT THIS ISThis document is a code of best practices that helps educators using media literacy concepts and techniques to interpret the copyright doctrine of fair use.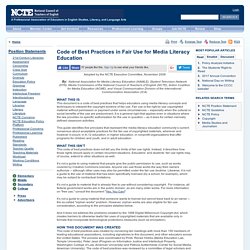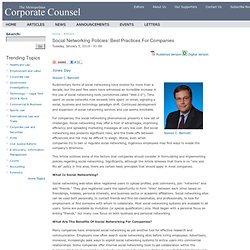 Rudimentary forms of social networking have existed for more than a decade, but the past few years have witnessed an incredible increase in the use of social networking tools (sometimes called "Web 2.0").
Social Networking Policies: Best Practices For Companies
Winter 2011 | Volume 17 | Number 4 Can Social Media and School Policies be "Friends"? Between 2004 and 2009, the amount of time that kids ages 2 to 11 spent online increased by 63 percent, according to a Nielsen study. Driving these trends is increasing mobile access, which research from International Data Corp. predicts will eclipse wired access to the Internet by 2015.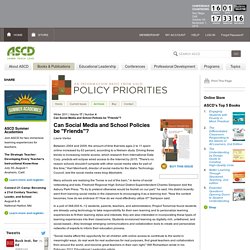 The 11 Rules of Social Media Etiquette
Since social media is, well, a social medium, it's important that users understand the proper ways to behave online.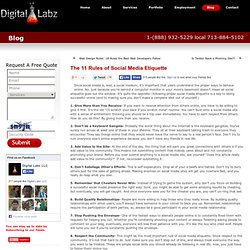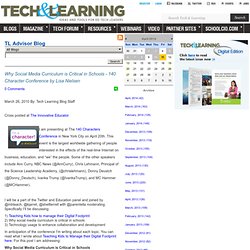 I am presenting at The 140 Characters Conference in New York City on April 20th.
Why Social Media Curriculum is Critical in Schools - 140 Charact
I am presenting at The 140 Characters Conference in New York City which is taking place April 20-21, 2010 at the 92nd Street Y in Manhattan.
Teaching Kids to Manage their Digital Footprint - 140 Character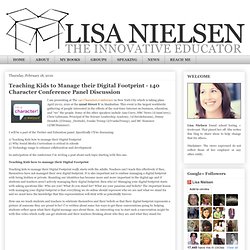 digiteen - Digital Etiquette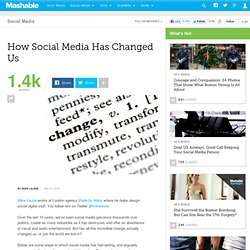 Mike Laurie works at London agency Made by Many where he helps design social digital stuff. You follow him on Twitter @mikelaurie.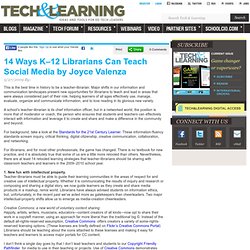 9/27/2009 By: This is the best time in history to be a teacher-librarian.