Psychology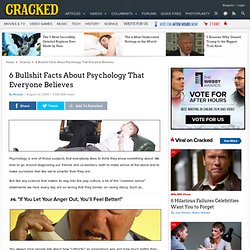 Psychology is one of those subjects that everybody likes to think they know something about. We love to go around diagnosing our friends and co-workers, both to make sense of the world and to make ourselves feel like we're smarter than they are. But like any science that makes its way into the pop culture, a lot of the "common sense" statements we hear every day are so wrong that they border on raving idiocy. Such as...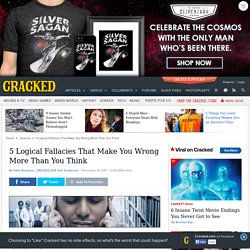 The Internet has introduced a golden age of ill-informed arguments. You can't post a video of an adorable kitten without a raging debate about pet issues spawning in the comment section . These days, everyone is a pundit. But with all those different perspectives on important issues flying around, you'd think we'd be getting smarter and more informed. Unfortunately, the very wiring of our brains ensures that all these lively debates only make us dumber and more narrow-minded.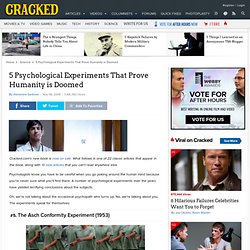 Cracked.com's new book is now on sale . What follows is one of 22 classic articles that appear in the book, along with 18 new articles that you can't read anywhere else. Psychologists know you have to be careful when you go poking around the human mind because you're never sure what you'll find there.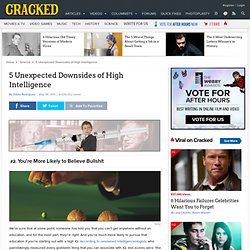 You're More Likely to Believe Bullshit Getty We're sure that at some point, someone has told you that you can't get anywhere without an education, and for the most part, they're right. And you're much more likely to pursue that education if you're starting out with a high IQ.
5 Unexpected Downsides of High Intelligence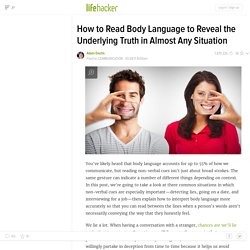 You've likely heard that body language accounts for up to 55% of how we communicate, but reading non-verbal cues isn't just about broad strokes. The same gesture can indicate a number of different things depending on context. In this post, we're going to take a look at three common situations in which non-verbal cues are especially important—detecting lies, going on a date, and interviewing for a job—then explain how to interpret body language more accurately so that you can read between the lines when a person's words aren't necessarily conveying the way that they honestly feel. We lie a lot. When having a conversation with a stranger, chances are we'll lie in the first ten minutes .